By Madeline Schiesser
Impunity Watch Reporter, Europe
HRODNA, Belarus – Three Belarusian human rights activists were fined for participating in an unauthorized demonstration on December 10: International Human Rights Day.  Oddly, none of them were arrested at the demonstration, but only days later, once a photo of their protest appeared online.  An Index on Censorship Report published this month found that even as the Internet becomes more accessible to a greater portion of the Belarusian population, the government continues to find new ways to silence and track dissidents.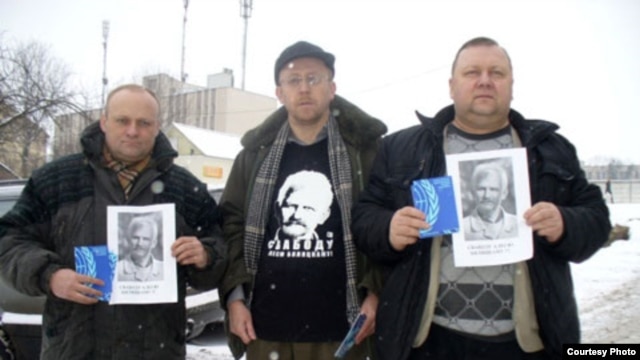 The activists, from the western city of Hrodna, were not questioned by police until December 18 for their involvement in the demonstration.  The photo which caused Uladzimer Khilmanovich, Viktar Sazonau, and Raman Yurhel to run afoul of authorities showed the men with posters and a shirt showing Ales Byalyatski, Viasna's chairman who was jailed last year for 4.5 years in tax evasion charges, which supporters say are politically motivated.
In a 150 minute trial on January 5, a Leninski District Court judge in Hrodna found the three guilty of staging an unauthorized demonstration and fined each 1.5 million rubels ($170).  No evidence of their guilt was presented beyond the photograph and the accusations were based only on the police's reports and "speculation," Viasna says, and is also calling the trial politically motivated and absurd.
"In truth, I understood, I was convicted for what I advocate, for having engaged in activities not prohibited by law," said Sazonau. "I was convicted for what I had done: cooperation with Ales Byalyatski."
Belarus, Europe's last dictatorship, has tightened its laws on protest in recent years.  In October 2011, the Parliament amended the Law on Mass Activities to prohibit protest organizers from announcing a gathering before it had received government sanction and to ban Internet organized protests.
Therefore, while the Internet has allowed activists and defenders of human rights to better spread their message in repressive states (where Internet use is growing rapidly, e.g. there are half a million new Internet users every year in Belarus, and in the past two years access to broadband increased from 10% of uses to 70%), unfortunately the increased exposure has also handed these states more evidence to use in criminal prosecutions to stifle speech.
The U.K.-based Index on Censorship's Report found that the Belarusian government uses "a repressive legal framework, including draconian laws such as criminal libel, legal prosecution, and the misapplication of the Criminal Code" to crackdown on opposition.
In addition, the government, which also owns most mainstream media, has found "new tools" in its pursuit to stamp out dissent on the Internet.  These tools include web filters on multiple government controlled WiFi networks, surveillance technology allowing authorities to intercept web traffic, the removal of secure access to particular websites (e.g. Facebook), and fake versions of popular dissident websites such as Charter97.  The report also explains that websites critical of the government are often targeted by Distributed Denial of Service (DDoS) attacks, which overwhelm a targeted site with requests for information, temporarily paralyzing the site and taking it down.
Andrei Aliaksandrau, the Index on Censorship's Belarus program manager, said: "[Belarusian president] Alexander Lukashenko has significantly expanded his government's control over the internet in the last two years. Few people in Belarus realize the level of state surveillance now being carried out by Lukashenko's security services. This poses a huge threat to internet activists in Belarus."
The report also discussed new legislation that would widen the government's power to censor online content.  Particularly, a "catch-all" ban on "distribution of illegal information" would be put in place, as well as "mass surveillance of citizens' activities online."  Researchers also found that the government "is spending heavily on the development of software that will allow the tracking of nearly all the activities of every internet user in the country" and that western technology companies had likely sold the government the equipment and software to be used in this tracking.
Mike Harris, the Index on Censorship's Head of Advocacy said: "State surveillance is yet another way that Lukashenko is compromising freedom of expression in Belarus. Index calls on the government to end online surveillance, release political prisoners and support its citizens' rights to free expression. The European Union must also act to stop the export of surveillance technology to places like Belarus."
For further information, please see:
Chapter'97 – 4.5 Million Fine for a Photo in the Internet – 8 January 2013
RFE/RL – Belarus Activists Fined After Posting Protest Photo Online – 8 January 2013
The Independent – Government of Belarus Using 'New Tools' to Silence Dissent on Internet, Says Index on Censorship Report – 4 January 2013
Index on Censorship – Belarus: Pulling the Plug – January 2013
Vyasna (Spring) – Супраць гарадзенскіх праваабаронцаў распачатая адміністратыўная справа (адноўлена) (Grodno Against Human Rights Defenders Filed an Administrative Case (updated)) – 18 December 2012
Author:
Impunity Watch Archive