By: Hannah Gabbard
Impunity Watch Reporter, Africa
ARUSHA, Tanzania – On May 10, 2018, the African Court of Human and Peoples' Rights (AfCHPR) decided the case between the Association Pour le Progrès et la Défense des Droits des Femmes Maliennes (APDF) and the Institute for Human Rights and Development in Africa (IHRDA) against the Republic of Mali.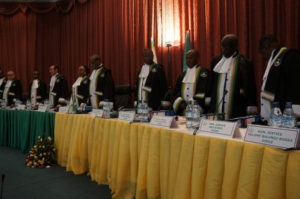 Applicants APDF and IHRDA, human rights organizations in Africa, alleged that the Malian Family Code was inconsistent with AfCHPR's Maputo Protocol.  Applicants alleged that the Family Code violated the minimum age of marriage for girls, the right to consent to marriage, the right to inheritance, and the obligation to eliminate traditional practices and undermine women and children's rights. The Maputo Protocol is a legal instrument ratified by the court in 2005 that aims to promote women's rights in Africa.
AfCHPR held that the Republic of Mali violated the Maputo Protocol, the African Charter on the rights and Welfare of the Child, and the Convention on the Elimination of Discrimination Against Women. AfCHPR ordered Mali to amend their Family Code to comply with these treaties. The court requested a report to be submitted to the court within two years of the judgement.
After the court announced its verdict, IHRDA Executive Director, Gaye Sowe said, "It is important for States to take measures to domestic international treaties they adhere to. Today's decision is very important not only for the promotion of women's rights in Mali and Africa, but especially for the visibility and effective use of the Maputo Protocol which so far has been underutilized by women's rights actors and stakeholders in Africa."
This case is the first application of the Maputo Protocol by the AfCHPR.
For further information, please see:
African Union – APDF & IHRDA v. Republic of Mali Case Summary – 11 May 2018
African Union – APDF & IHRDA v. Republic of Mali Judgement  – 11 May 2018
IHRDA – IHRDA, APDF obtain favourable judgment against Mali in first case before the African Court applying provisions of Maputo Protocol – 11 May 2018
American Society of International Law – African Court on Human and Peoples' Rights Rules Mali Violated the Maputo Protocol (May 11, 2018) – 16 May 2018
International Justice Resource Center – African Court Finds Mali's Family Law Violates Human Rights Obligations – 29 May 2019