Matthew Sneed
Impunity Watch Reporter, The Middle East
ISRAEL– Ahed Tamimi, 16, is waiting to hear whether the Israeli Military Court will release her on bail, or if she will be required to remain in jail until her trail begins. Tamimi made headlines after she was arrested for slapping two Israeli solders who entered her yard.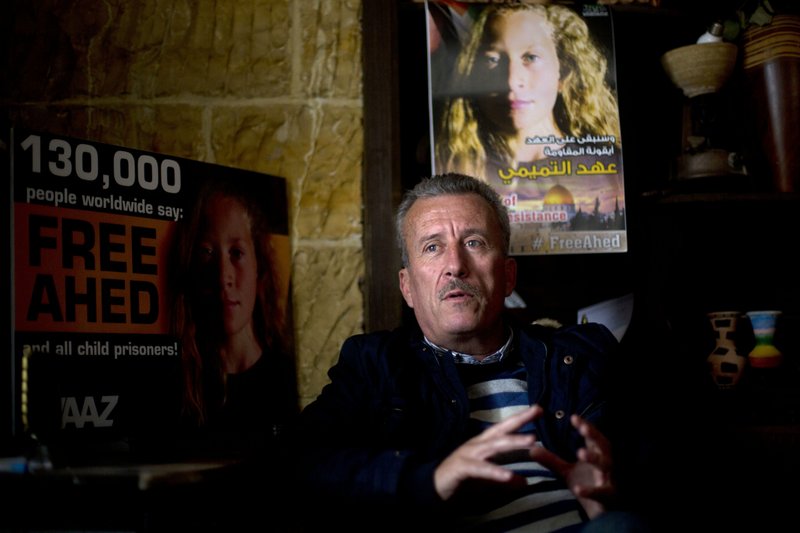 On December 15, a protest began in the West Bank Village of Nabi Saleh in response to President Trump's declaration that the United States would recognize Jerusalem as the capital of Israel. This decision triggered multiple Palestinian protests. During the protest, Ahed's fifteen-year-old cousin was severely injured by rubber bullets fired into the crowds by the military. When Tamimi saw two Israeli soldiers outside of her home, she confronted them and slapped the solders in the face. She was arrested on December 19 in the middle of the night.
The military is planning to "throw the book" at the teenage girl, "whose indictment includes a dozen counts of assault, incitement, interference with soldiers, and stone-throwing in incidents since April 1, 2016." She now faces up to fourteen years in prison.
It is unlikely that Ahed will be released considering the military courts in the West Bank deny bail to children approximately 70% of the time. A 2013 UNICEF report found that most children plead guilty in order to be released. Children in military court proceedings are often not allowed the presence of their lawyers or parents during interrogations. It is possible that this trial could take months, as the prosecutor has listed eighteen witnesses he plans to summon.
Her story, told in both pro-Israeli and pro-Palestinian papers, demonstrates the divide between the two groups. A Jerusalem Post op-ed stated that Ahed was being used for the "two components of the Palestinian war to annihilate Israel: terrorism and propaganda." In contrast to this, an op-ed published on Monday by the Qatari-based Al-Jazeera described the Palestinian belief that "Ahed Tamimi is the Palestinian Rosa Parks."
Ahed is not the only member of her family to protest against Israeli control. Her father, Bassem Tamimi, was an activist in the first Palestinian protests in the 1990s. These protests helped create the interim Israeli-Palestinian deals of the decade. Her family regular participates in what Palestinians call "popular resistance." Palestinians gather on almost a weekly basis to protest Israeli occupation along the West Bank. Bassem said that he is proud of his daughter and her actions have resonated with the people because she is not "seen as the victim." He further stated that "When you look at her, you feel proud, not sad."
For more information please see:
Newsweek – ISRAEL MUST RELEASE 16-YEAR-OLD GIRL WHO FACES 10 YEARS IN PRISON, AMNESTY SAYS – 15, Jan. 2018
Human Rights Watch – Israeli Prosecutors Throw Book at Palestinian Child Protestor – 14, Jan. 2018
Independent – Ahed Tamimi: 16-year-old Palestinian girl who kicked and slapped Israeli soldiers could face 14 years in prison – 9, Jan. 2018
AP News – Case against Palestinian teen spotlights her activist family – 9, Jan. 2018
Author:
Impunity Watch Archive