by Ryan Elliott
Impunity Watch Reporter, North America & Oceania
MONTGOMERY, United States –While Arizona or even Texas might come to mind when discussing tough state laws on illegal immigration, Alabama has taken center stage in what has been described as the strictest state law on illegal immigration
in the United States. This law enacted last September is so harsh that the Department of Justice said it is unconstitutional, and threatens basic human rights.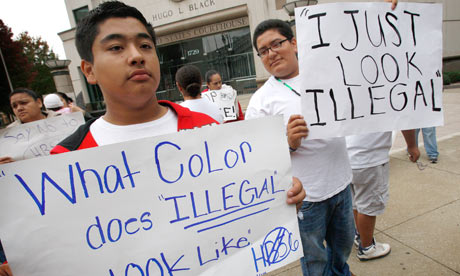 The Department of Justice filed a brief with the 11th circuit court of appeals, which according to CNN, stated that the "Constitution leaves no room for such a state immigration-enforcement scheme." The brief also said that the law was nothing more than an attempt on the part of the state to force illegal immigrants to "deport themselves." Reporting on the passage of the new law, CNN likened it to "the Jim Crow South," and "the police state it has created is equally cruel."
Assuming Alabama's law were to be enforced in its entirety, it would, among other things: require that public schools deny admission to children who weren't able to prove their citizenship; an individual who could not supply proper documentation could be jailed or detained indefinitely; employers or even civilians who either employ or harbor illegal immigrants would face certain legal repercussions.
Although a federal court has already stricken portions of this law, most notably the measure that requires public schools to verify the status of students, other provisions still remain. For instance, a provision of the law would allow police officers, in the course of routine traffic stops, to ask for documentation from "suspected illegal immigrants."
Sponsors of the law, Senator Beason and Representative Hammon, have confirmed that the goal of this new law is to force illegal immigrants out of state of Alabama. But they also are careful to note that the law does not permit racial profiling. However, it is difficult to see where this line is drawn, and how such a provision would "expressly forbid" racial profiling. In fact, this provision has created a great deal of fear and anxiety among Alabama's growing Hispanic population.
According to the Huffington Post, earlier last week, around 100 opponents of the new legislation, most of whom were young Hispanics, protested around Alabama's Capitol and the Statehouse. Most protesters were seen holding signs and placards that criticized the new law. Police arrested thirteen protesters, who refused to cooperate with them, for disturbing the peace. A Montgomery attorney, Mike Winter, offered to represent those arrested and acknowledged that some could be held by immigration officials.
Meanwhile, supporters of Alabama's new law claim that illegal immigrants cost Alabama taxpayers a quarter of a billion dollars each year, namely on education and social services. What's more, with the unemployment rate hovering around ten percent, some supporters feel that illegal immigrants are creating higher unemployment in the state because illegal immigrants are taking Alabamian jobs. In short, supporters of the law feel that if the law achieves its goal, there will be more jobs for Alabama residents.
The law has already motivated some illegal immigrants to leave Alabama. Those who left Alabama did so because of the increased likelihood of being discovered. Perhaps the main factor in individual's decision-making to leave was a provision of the  law that forbid any illegal immigrants from conducting business transactions with the state. Alabama officials interpreted this portion of the law to mean, according to CNN news, that illegal immigrants could not obtain an annual permit for their manufactured homes. The effect being, of course, that immigrant's illegal status would become highly visible to residents and law enforcement agencies. Before there was a mass exiting of illegal immigrants, however, District Judge Thompson enjoined Alabama from denying these permits to individuals who could not supply proper documentation.
Several consequences of the new legislation still loom large, however. As in other parts of the country, a large percentage of farm workers in Alabama are illegal immigrants. As a result, many farmers believe that this new law, if enforced, would destroy their capacity to operate. The Washington Post reports that Alabama "farmers say that jobless U.S. workers, mostly inexperienced in field work and concentrated in and around cities, are ill-suited and mostly unwilling to do the back-breaking, poorly paid work required to plant and harvest tomatoes, squash, cucumbers and other crops." Furthermore, the Washington Post reports that "farmers also say that, if they were to raise wages to make the jobs more attractive, as advocates for the new law suggest, crop prices would soar, making Alabama produce uncompetitive."
The fate of Alabama's new law remains to be seen, but it has already been labeled many things, including unconstitutional and an "overreaching of state power" by the Obama administration. Other legislators around the nation have proposed alternative solutions to ameliorate the problems faced by illegal immigration. According to the Washington Post, these solutions might be as simple as having the federal government set a supply of visas commensurate with the demand for foreign labor, or possibly adopting a guest-worker program.
For more information, please see:
USA Today —Ruling on Ala. Immigration Law Averts Exodus, Groups Say — 25 November, 2011
CBS News —Consequences of Alabama Immigration Law Set In –23 November, 2011
Miami Herald — Alabama Lawmakers Defend Immigration Law as Congressional Democrats Challenge It  –21 November, 2011
CNN News– Alabama\'s Immigration Law: Jim Crow Revisited — 17 November, 2011
Huffington Post– Alabama Immigration Law: Police Arrest 13 Protesting Controversial Legislation –15 November, 2011
CNN News —U.S. Makes Case Against Alabama\'s Immigration Law — 15 November, 2011
Washington Post — How Alabama's Immigration Law is Crippling its Farms–3 November, 2011