By Carolyn Abdenour
Impunity Watch Reporter, Middle East
TEHRAN, Iran – On Monday, 6 February, Iranian security forces detained several freelance reporters for possible connections with the British Broadcast Corporation's ("BBC") Persian service.  Iran has banned affiliation with the BBC in the country.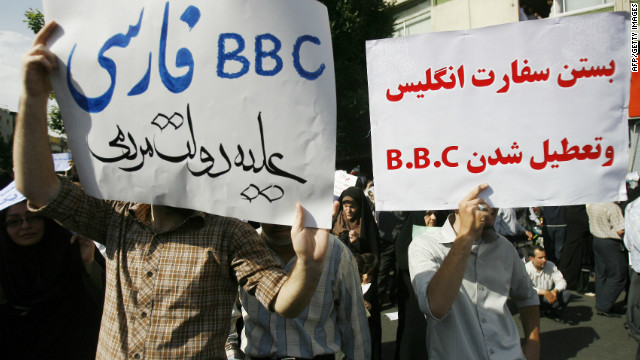 BBC stated "no BBC Persian staff members or stringers [were] working inside Iran."  It added, "We strongly condemn any actions against the families and acquaintances of BBC Persian staff."  BBC also accused Iranian authorities of intimidating and bullying its Persian service staff last week.
The semi-official Mehr news agency reported the arrests of "a number of people deceived by the lie-spreading BBC Persian network."   The unnamed "knowledgeable source" said BBC had "the mission of gathering news and information, producing content in various formats, recruiting, training and preparing for the departure of Iran's elite media workers from the country."  The source claims the arrested journalists "received huge amounts of money from the company."
The source added Iran's judiciary department will issue a verdict once the charges, including committing several security crimes, are finalized.  Lastly, the source reminded journalists that "any kind of co-operation with the BBC Persian channel is illegal and will be prosecuted."
Although the BBC's Farsi-language service remains outlawed in Iran, illegal satellite receivers transmit the program.  The Iranian government alleges the BBC encourages unrest within the country by broadcasting "anti-revolutionary programs."  Tehran has also accused the BBC of hosting Iranian dissidents and serving as a cover for British intelligence.
BBC's Director General Mark Thompson reported Iranian officials are using "disturbing new tactics" in conjunction with intimidation to target the media.  Iranian authorities arrested the sister of a staff member and held her on unspecified charges in solitary confinement at Tehran's Evin Prison before releasing her.  Thompson added, several staff members' Facebook accounts were hacked and subjected to a "consistent stream of false and slanderous accusations…ranging from allegations of serious sexual assault, drug trafficking, and criminal financial behavior."
Iranian official also arrested six film-makers in September for collaborating with BBC Persian.  The BBC countered the allegations by stating the film-makers were independent, and the BBC simply bought the documentaries' broadcast rights.  Authorities released two of these film-makers in October.
Human Rights Watch ("HRW") correlates the media harassment with Iran's parliamentary elections next month.
The BBC spokesperson said "These latest reports appear to confirm our recent statements and should be of deep concern to all those who believe in a free and independent media."
For further information, please see:
BBC – Iran 'Detains Alleged BBC Persian Journalists' – 7 Feb 2012
CBS News – Iran Arrests Several on Links to BBC Farsi Service – 7 Feb 2012
CNN – BBC Accuses Iran of Intimidating Journalists – 7 Feb 2012
Sydney Morning Herald – BBC Freeland Reporters Arrested in Iran – 7 Feb 2012
Author:
Impunity Watch Archive