By Adom M. Cooper
Impunity Watch Reporter, Middle East
MANAMA, Bahrain–Activist Abdulhadi al-Khawaja has refused food since 08 February 2012 in protest of a life sentence he received in June 2011. He is a Shiite convicted by a military court of plotting against the Sunni-monarchy and is currently in a stable condition. Amnesty International stated last month that the trial was "grossly unfair" and that his conviction was based on a confession he made under duress, and no evidence was presented that showed he had used or advocated violence during the mass protests against King Hamad bin Issa al-Khalifa.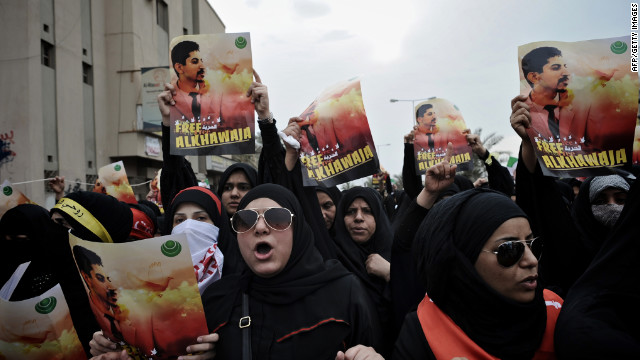 The nation of Denmark had asked Bahrain to send Khawaja, who is also a Danish citizen, to the Scandinavian country. Bahrain's official news agency BNA reported on Sunday 08 April 2012 that officials in Manama had turned down the request.
On Monday 09 April 2012, Mr. Khawaja's lawyer, Mohammed al-Jeshi, expressed fears that his client could have died after repeated attempts and requests to contact him were turned down. al-Jeshi shared these words with AFP on Monday 09 April 2012.
"We fear that he might have passed away as there is no excuse for them to prevent us from visiting or contacting him."
The daughter of Mr. Khawaja, Zainab, told Al-Jazeera on Monday 09 April that the family had "no idea" about the state of her father's health as they had not been allowed to call or visit him.
But on Tuesday 10 April 2012, al-Jeshi released a statement confirmed that his 52-year-old client was "in good health" and called on the media to exercise caution concerning the details of the situation. Two foreign doctors, one of them an expert on hunger strikes and the other the director of a medical center in Denmark, had visited the activist at the Bahrain Defense Force Hospital in the capital of Manama. Abdul Rahman al-Sayed, Bahrain's attorney general, shared these words with a BBC correspondent.
"Despite prior medical reports that showed low blood sugar, potassium, and low white blood cells, which would have endangered his life if he had not received proper medical care, his current condition is well. He was co-operative, quite coherent, well-oriented in time, place and person, as he is receiving good medical care at the BDF hospital."
Although Mr. Khawaja is in "good health," the rest of his county is not. On 10 April 2012, seven Bahraini policemen were wounded when a home-made bomb exploded during a protest near the capital calling for the activist's release. According to an interior ministry spokesman, demonstrators and protesters threw petrol bombs at riot police to lure officers into Eker, a Shia village outside Manama before the explosion was set off.
"We consider this an act of terrorism."
Demonstrators and protesters have also revealed plans against hosting the Formula One grand prix, which was postponed last year. The race was reinstated to occur this year but was cancelled due to the uprising and bloody crackdown. The governing Internatonal Automobile Federation and Bahraini organizers have maintained that the race is still scheduled for 22 April 2012.
As Mr. Khawaja continues his hunger strike vigil with hopes to bring about change in Bahrain, one can only hope that government officials take stock in how effective demonstrators and protesters can be. The citizens of Bahrain are doing their best to be heard. It is up to the government to listen.
For more information, please see: 
Al-Jazeera – Policemen Injured in Bahrain Blast – 10 April 2012
BBC – Bahrain Hunger Striker Khawaja 'In Good Health' – 10 April 2012
Ahram – Jailed Bahrain Hunger-Striker Feared Dead: Lawyer – 09 April 2012
Al-Jazeera – Concern Mounts For Bahrain Hunger Striker – 09 April 2012
CNN – Bahrain Says Activist On Hunger Strike 'Is Fine' – 09 April 2012
The Guardian – Abdulhadi al-Khawaja's Death Would Be A Stain On Bahrain – 09 April 2012
Author:
Impunity Watch Archive