By: Max Cohen
Impunity Watch Reporter, South America
BUENOS AIRES, Argentina – The government of Argentina is currently being accused of "disappearing" a human rights activist named Santiago Maldonado on August 1st. On Friday August 11th, thousands of people marched through the capital demanding information regarding the whereabouts of Maldonado. The disappearance of Maldonado after being detained by Argentine border police, aka the National Gendarmerie, brings back painful memories for many of the dictatorship that ruled the country from 1976 to 1983 and "disappeared" around 30,000 people.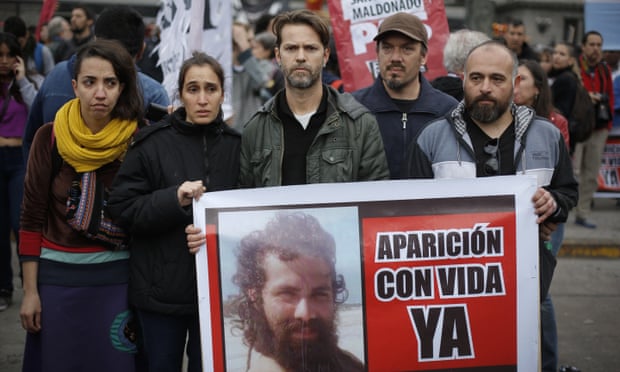 Santiago Maldonado was taking part in a protest supporting the land claims of the indigenous Mapuche Indians when he was allegedly grabbed and detained by border police for blocking a road along with other protestors. The Mapuche Indians were being evicted from lands in Patagonia owned by the Italian clothing company Benetton, and used to produce wool, but which they've claimed as being their ancestral lands and have occupied since 2015. According to the human rights group Center for Legal and Social Studies, on the day Maldonado appeared about 100 government agents entered the indigenous community shooting rubber and lead bullets. Maldonado and the other protestors were also demanding the release of Facundo Jones Huala, a Mapuche leader currently imprisoned for illegal possession of firearms and wanted in Chile on charges of terrorism. However, Argentine activist Adolfo Perez Esquivel, who won the Nobel Peace Prize in 1980 for his defense of human rights during the dictatorship, has accused the current government of repressing indigenous peoples.
Since Maldonado went missing Argentine authorities have denied any wrongdoing and even offered a $27,000 reward for information on his location. Security Minister Patricia Bullrich has also said that there's no indication the border police captured Maldonado, or that he was even at the protests.
However, his family as well as other witnesses claim that he was there and was detained. In addition to the thousands of civilians who marched through Buenos Aires, the UN Committee on Enforced Disappearances has expressed concern for Maldonado's health and demanded action from the Argentine government. On Monday August 7th, a protest demanding Maldonado's safe return had turned violent when protestors hurled Molotov cocktails at police, attacked a journalist and smashed the window of a television van. There are presently no indications that the August 11th protest was similarly violent.
For more information, please see:
Reuters (UK) – Thousands of Argentines march to demand answers on missing protestor – 11 Aug, 2017
The Guardian – Argentina activist missing after indigenous people evicted from Benetton land – 8 Aug, 2017
Washington Post – Argentina rights groups demand info on missing activist – 8 Aug, 2017