By Heba Girgis
Impunity Watch Reporter, South America
BUENOS AIRES, Argentina—A video was released last week revealing six police officers torturing two young men in the northern city of Salta. The video, which was posted on YouTube, shows two men, wearing only their underwear, as water is poured over them. The men were surrounded by several others wearing civilian clothing and who were—apparently—the officers implicated in this case. One of the young men had a bag placed over his head until he began suffocating.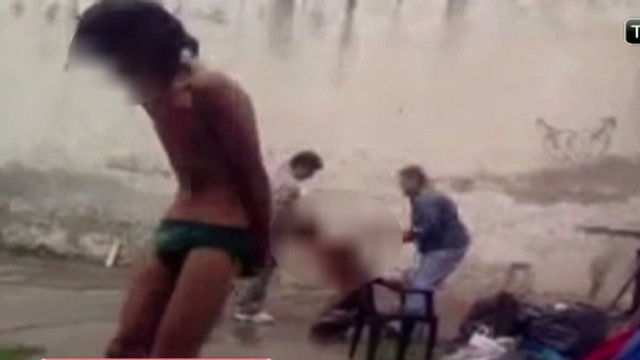 The victims were being held on a patio where a high concrete wall is seen in the background. At one point during the video, an interrogator asked one of the suspects a question. The victim answered fearfully, "I swear to you that I don't know anything about it." He repeated this several times. The interrogator then covered the young man's head with a plastic bag and tied it around his neck. The suspect began violently shaking and yelling until he fell to the floor. The interrogator then took the bag off of his head and the victim continued laying on the floor gasping for air.
The video outraged many people in this South American country. Activists noted that the real tragedy here is that Argentina's police routinely use torture against crime suspects. Maria del Carmen Verdu, director of CORREPI, a watchdog organization against institutional and police repression said, "This is news because someone put the video on the Internet. If these images didn't exist, these two kids would be part of the army of police station torture victims that nobody worries about and has no social impact."
Authorities responded to the video's release on Thursday by detaining five of the officers seen in the video. The sixth officer was arrested a day later. The latest officer who was arrested is suspected of having taped the video on his cellular phone. However, it is not clear whether he was also the one to upload the video on the Internet.
In the 1970s and 1980s stories of police torture and abuse were resonant in Argentina when security forces used torture under the country's military rule. Daniel Segura, the head of the police station where the tortures allegedly occurred stated that it will be "lamentable that we'll be known for this." He said also, that simply wearing a police uniform does not mean that a person has a true calling for the profession.
For further information, please see:
CNN – Argentine Police Officers Accused of Torture That Appears on Video – 21 July 2012
Ventura County Star – Argentines Outraged Over Police Interrogation – 21 July 2012
BBC – Argentine Police Arrested Over Salta 'Torture Video' – 20 July 2012
United Press International – Torture Video Posted, 6 Police Arrested – 20 July 2012
Author:
Impunity Watch Archive