By Erica Smith
Impunity Watch Reporter, Africa
BANGUI, Central African Republic – More than 5,000 people, mostly women and children, have sought refuge in the main airport of Bangui, the capital of the Central African Republic (CAR), after increased violence in the neighborhoods of  Boy-Rabe and Boeing. The refugees have blocked runways and flights have been diverted to neighboring Cameroon.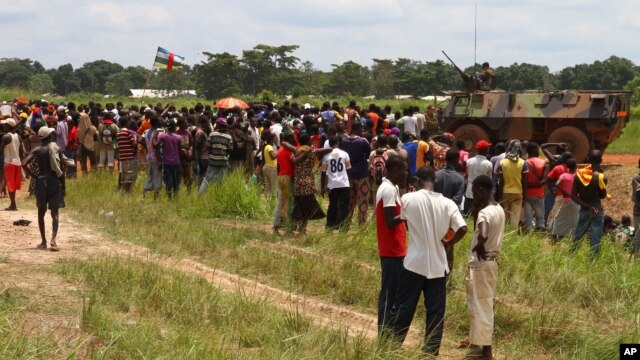 The CAR has become increasingly unstable since Seleka rebels ousted President Francois Bozize in March. The new president and former rebel leader Michel Djotodia has so far been unable to stop rebel fighters from killing and looting citizens.
                The UN Office of the High Commissioner for Refugees has issued a statement calling for Djotodia and the government to restore order in the country. "We urge the authorities to use all means to stop attacks against civilians, restore security and protect the population," said Liz Ahua, the deputy director of UNHCR's Bureau for Africa.
                The UNHCR has reported that over the past ten days people have been subjected to arbitrary arrests, detention, torture, extortion, armed robberies, physical violence, restriction of movement, and looting. These actions have killed 10 so far in addition to numerous people killed outside the capital city by marauding rebel fighters.
                Many of the refugees inhabiting the airport are there not only for safety provided by peacekeepers but to protest the situation in their country. Residents of Boy-Rabe and Boeing say they have stayed at the airport to protest the lawlessness that has run rampant since March. "Our presence here at the airport has one goal – to get the world's attention. Because we are fed up with these Seleka," said Antoine Gazama told Aljazeera.
The African Union is deploying a 3,600 person peacekeeping mission in the CAR, incorporating a force of 1,100 soldiers already present in the country. French President Francois Hollande has called on the UN Security Council and the African Union to work to stabilize the CAR, warning that the country is at risk of completely collapsing. The CAR was at one point a French colony.
There are already more than 206,000 internally displaced persons in the CAR before the recent unrest and some 63,000 people have fled to neighboring countries. The fighting has eroded the humanitarian situation in the CAR, even the most basic services have been interrupted, affecting the entire population of 4.6 million people, half of whom are children.
For further information, please see:
Thomson Reuters — Former rebels sow terror in Central Africa Republic – residents — 30 August 2013
Voice of America — UN Agencies See Security Deterioration in CAR — 30 August 2013
Aljazeera — CAR protesters occupy Bangui airport — 29 August 2013
All Africa — Central African Republic: Thousands Take Refuge At Airport — 29 August 2013
All Africa — Central African Republic: Violence Displacing Bangui Residents — 29 August 2013
All Africa — Central African Republic: Amid Renewed Fighting UN Refugee Urges CAR to Protect Civilians — 29 August 2013