By Irving Feng
Impunity Watch Reporter, Asia
YANGON, Myanmar – Riot police used violence to disperse protestors in the town of Monywa located in the northwestern district of Sagaing, injuring at least 50 individuals.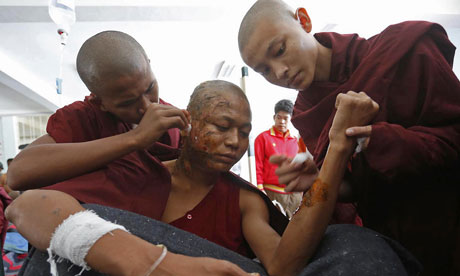 Roughly 1,000 protestors, including local monks, gathered in a camp in Monywa to oppose a copper mining venture jointly operated by a subsidiary of the prominent weapons manufacturer, China North Industries Corp, and the military-owned, Union of Myanmar Economic Holdings Ltd.
The protestors alleged that the proposed billion dollar expansion of the copper mining venture was illegally usurping more than 7,800 acres of land.  Local farmers protesting the current expansion complained that they were forced to swallow an undesirable deal only two years prior when they gave up their land in exchange for new housing and cash compensation.
The riot police arrived early in the morning, around 3 a.m., and opened fire on the camp inhabitants with water cannons, tear gas and incendiary devices, or "phosphorous bombs."  Some protestors suffered severe burns from the incendiary devices and, as they took off their burning clothes, fires started all across the camp.
Zaw Htay, a spokesperson for President Thein Sein's office, denied any use of incendiary devices against the protestors and stated only water cannons, tear gas and smoke bombs were used to disperse camp inhabitants.
Some of the injured, many of them monks, have taken refuge in a nearby village to nurse their burns and other injuries suffered at the hands of Myanmar's riot police.  The injured reported that there were no ambulances to take them to nearby hospitals, other emergency medical response measures, or doctors to help care for their burns.
Disputes over land usurpation, like the one presented in the expansion of the copper mining venture, has been a growing problem in Myanmar, especially after the central government under Thein Sein has relaxed the laws governing individuals' rights to protest.
Prominent Burmese politician and Nobel Peace Prize laureate, Aung San Suu Kyi, has offered her services to ensure a peaceful resolution to the current conflict between the interests of the joint mining venture and local land owners.
Aung San Suu Kyi has already met with the companies behind the mining venture and desires to meet with the thousands of protestors and local land owners to ensure better cooperation between the conflicting parties.
The hiccup in the mining venture's progress has caused the Chinese media to characterize the ordeal as a losing situation for the Chinese interests involved.  The Chinese media has also gone as far as to blame Western interests as the cause for the unrest and stall in the project, claiming that only third party Western interests will benefit from the current result.
For further information, please see:
BBC – Burmese police break up copper mine protest – 29 November 2012
The Guardian – Burma: riot police move in to break up copper mine protest – 29 November 2012
Reuters – Riot police move in to end Myanmar copper mine protest – 29 November 2012
The Telegraph – Burma copper mine protest broken up by riot police – 29 November 2012
Democratic Voice of Burma – Hundreds protest against Burma copper mine – 21 November 2012
Author:
Impunity Watch Archive