By Christine Khamis, Impunity Watch Reporter
BEIJING, China –
A clash between Ethnic Uighurs and Chinese police on Monday led to the death of an estimated 18 people in Kashgar, a city in the Xinjiang region in western China. The attack by the Uighurs on a police checkpoint was reported by Radio Free Asia.
Radio Free Asia, or RFA, is a Washington-based news service that employs Uighur reporters. Chinese news media fails to report much of what the RFA and pro-Uighur websites report on attacks against Chinese authorities.
RFA has reported that a car attempted to go through the police checkpoint in the Xinjiang region without stopping. A police officer attempted to stop the car and the car backed up, crushing the officer's leg. Two individuals got out of the car and stabbed two traffic officers. Several other attackers arrived at the scene, as well as armed police officers. 15 of the attackers and 3 police officers were killed during the attack.
The RFA's report has been corroborated by members of the neighborhood where the attack occurred. A police officer also confirmed the attack but wished to remain anonymous because he was not allowed to speak with foreign news organizations.
There is a long history of tension and conflict between the Uighurs and Chinese authorities. Tensions especially intensified in 2009 when there was ethnic rioting in Urumqi, Xinjiang's regional capital. Hundreds of people have been killed during attacks throughout the past three years.
The Uighurs are an ethnic Turkish group comprising more than forty percent of the 22 million people in the Xinjiang region. Most Uighurs are Muslim. Beijing has increasingly controlled the Uighurs' right to practice Islam, including allowing fewer mosques and strict oversight of religious schools.
In July 2014, some Muslim civil servants were not allowed to fast during the Muslim holy month of Ramadan. In some areas of the Xinjiang region, Uighurs are subject to fines or detention for wearing veils or having beards.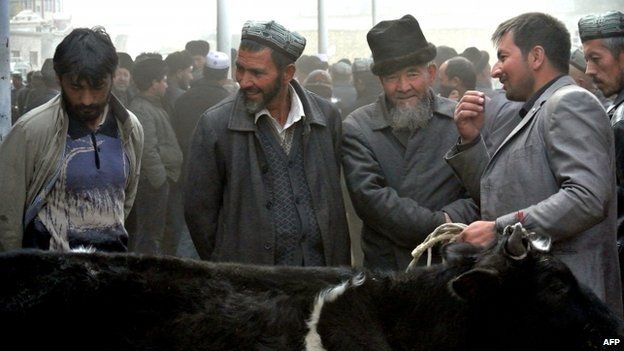 The Xinjiang region has expanded economically and with that expansion, a number of Han Chinese have settled in the region. The Han Chinese are said to have the best employment options in the region and many of them do well financially. This has also fueled animosity among Uighurs.
Some of the Uighurs are separatists who want to create an independent East Turkestan, and some of those separatists commit similar attacks against Chinese authorities.
An Amnesty International report in 2013 stated that Chinese authorities criminalized "what they labeled 'illegal religious' and 'separatist' activities" and cracked down on "peaceful expressions of cultural identity".
For more information, please see:
BBC – China Police Checkpoint Attack 'Kills 18' in Xinjiang – 24 June 2015
Bloomberg Business – Attack in China's Xinjiang Region Kills at Least 18, RFA Reports – 24 June 2015
New York Times – Deadly Clash Between Police and Ethnic Uighurs Reported in Xinjiang Region of China –24 June 2015
Reuters – Bomb Attack In Restive Xinjiang and Police Response Kill at Least 18: Radio Free Asia – 24 June 2015
BBC – Why Is There Tension Between China and the Uighurs? – 26 September 2014
Amnesty International – Annual Report: China 2013 – 25 May 2013
Author:
Impunity Watch Archive