by Yesim Usluca
Impunity Watch Reporter, Middle East
SANA'A, Yemen — Human Rights Watch released a statement on Sunday, March 26th, in which it indicated that an attack on a boat carrying Somali civilians allegedly carried out by the Saudi-led coalition amounts to a war crime.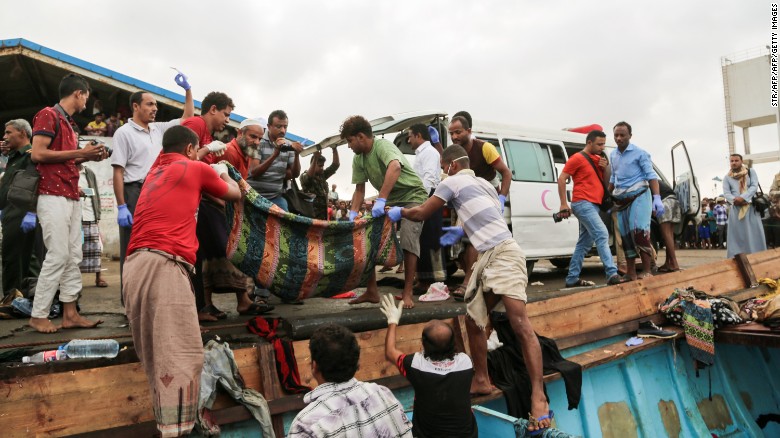 Witnesses reported that on March 16th, an Apache helicopter, and potentially a military naval vessel, opened fire on the boat at approximately 9 p.m. A female Somali refugee who was wounded in the incident reported seeing a helicopter above the boat, followed by an attack that happened "abruptly". She stated that the helicopter "kept firing at [them]" and anyone on the boat who spoke Arabic started screaming "we are Somalis!" The head of the fishing port at which the boat docked after the attack stated that they had to put the bodies in the area reserved for "stor[ing] the fish" because they could not "find a place to put the bodies[.]" Photographs of the attack showed "damage consistent with gunfire from an aerial attack" and depicted "a boat strewn with bodies[.]"
The United Nations High Commissioner for Refugees ("UNHCR") stated that the attack killed a minimum of forty-two individuals, including women and children, at least thirty-two of which were Somali refugees. Eighty individuals who survived the attack were subsequently rescued and transported to a hospital for treatment. The International Organization for Migration indicated that the victims had been carrying UNHCR identification documents, however it was not clear where in Somalia they had originated from and where the boat was traveling to and from. UNHCR officials reported that the boat could have been traveling towards Sudan or other northern countries.
International organizations responded with outrage to the attack on the refugee boat. The Foreign Ministry of Somalia stated that "target[ing] a boat carrying Somali migrants" was "very sad[.]" The UNHCR indicated that it was "appalled by the deaths of refugees[,]" and further added that "Yemenis, refugees, asylum seekers and migrants continue to suffer and disproportionately bear the brunt of the conflict in Yemen[.]" Human Rights Watch ("HRW") called for an urgent "need for accountability" on the Yemen war's second anniversary.
Based on the laws of war, deliberate or reckless attacks on civilians are war crimes. HRW stated that although all parties to the conflict refused to claim responsibility for the attack, the only party that has military aircraft is the Saudi-led coalition. Ms. Sarah Leah Whitson, the Middle East Director for HRW cited the Saudi-led coalition's "reckless disregard" for civilian life when characterizing the attack on the refugee boat as a war crime.
For more information, please see:
Human Rights Watch—Yemen: Attack on Refugee Boat Likely War Crime—26 March 2017
RT—Likely war crime: Alleged Saudi coalition strike on refugee boat condemned by HRW—26 March 2017
CNN—In Yemen, urgent support for survivors of deadly boat attack—18 March 2017
Time—31 Killed When Airstrike Hits Refugee Boat Near Yemen's Coast–17 March 2017
BBC News—Yemen migrant boat attack kills at least 42—17 March 2017