By Tyler Yates
Impunity Watch Reporter, Middle East
MANAMA, Bahrain — The Bahraini government is continuing its prosecution of a group of medics who treated wounded protesters during an Arab Spring inspired uprising last year.  The continuation of the internationally criticized high profile case comes despite a statement from the prosecutor suggesting that most of the charges would be dropped.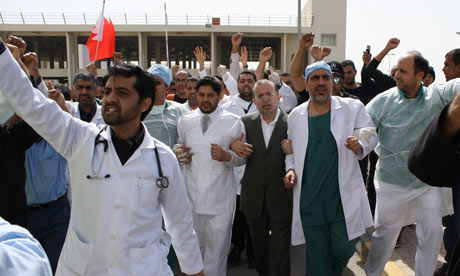 Last week it was announced that charges would only be pursued against five of the 20 medics that are involved in the case.  The other medics' cases would be sent to a professional tribunal.
So far none of the charges have been dropped, and there has been no pronouncement as to why.
There appears to be some problem within the Bahraini government as to the policy that should be applied.
"It looks like various people are making decisions in the Bahrain government without an agreed policy. What's happening with the medics smells of incoherence and incompetence," said Brian Dooley of the US-based Human Rights First.
The prosecution has inspired a lot of international ire, as rights groups claim that the medics are being punished for helping civilians who had been attacked by state security forces during anti-government demonstrations.
This case is technically a retrial.  The original trial took place in a military court where the medics received jail terms of up to 15 years on charges including incitement to overthrow the government and attempting to occupy a hospital.
Some of those charged are said to have taken part in a protest inside the Salmaniya hospital.  Government witnesses claim that there was a plan to stockpile weapons inside the hospital and take hostages.
The prosecution of these medics is just one portion of a larger story.  There is currently a push in Bahrain for injured protesters to seek out underground medics rather than risk hospitals.
Police have been setting up shop in hospitals to interrogate the admitted injured. Some reports talk of interrogations happening in circumstances where the injured was barely conscious or unaware of their situation.
Sixteen-year-old Mohammed al-Jaziri was seriously injured when he was struck in the face with a tear gas canister on February 18.  He was taken to the hospital, where, within ten minutes of arriving, police attempted to interrogate him despite the fact that he was heavily bleeding.  Throughout the night, the police repeatedly attempted to interrogate Mohammed, even though he was only semi-conscious.  His brother, Hussein, begged the police to leave him alone, but the next day Mohammed was subjected to a three-hour interrogation by a public prosecutor who refused to identify himself.
The treatment of patients like Mohammed has led many protesters and their families to distrust hospitals.
Last month Bahrain's National Health Regulatory Authority issued a warning to all private hospitals and clinics.  It said: "Providers must report cases with injuries due to suspected criminal activities irrespective of their causes to concerned authorities." The letter added that failure to do so "constituted collaboration and is criminalized by law".
While reporting criminal behavior is a norm in many societies, in Bahrain, where the act of going out and protesting is a crime, the repercussions are more severe.
"Calling for freedom and democracy in the streets makes me a criminal in Bahrain," says Zainab al-Khawaja, a veteran human rights campaigner.
If an individual is injured during the protests they are likely to face interrogation and the possibility of criminal charges if they seek medical aid in a hospital.
This had led to a noticeable decline in the number of people being admitted into emergency rooms.  Some estimates show that admittances have been halved since the protests began in February 2011.
While the number of people seeking aid from hospitals has decreased, all signs show that violence between protesters and the police is escalating, and so is the number of injuries.
The need for non-hospital medical care has led many medics to begin practicing underground medicine on the side, despite the risks of facing criminal charges themselves.
For more information, please see:
RT — Bahrain retries convicted protest doctors — 23 Mar. 2012
Al-Jazeera — Bahrain to go ahead with medics trial — 21 Mar. 2012
International Business Times — Bahrain Pushing the Trial of Medics Who Treated Protesters — 21 Mar. 2012
Chicago Tribune — Bahrain to push on with medics trial, not drop cases — 20 Mar. 2012
BBC — Bahrain's 'underground medics' secretly treat injured protesters — 24 Feb. 2012
Author:
Impunity Watch Archive