By Christine Khamis
Impunity Watch Reporter, Asia
DHAKA, Bangladesh—
Assailants threw homemade bombs into a crowd gathered for Ashura, a Shiite Muslim holiday, on Saturday. The Islamic State claimed responsibility for the attacks, but the Bangladeshi government has since rejected their claim.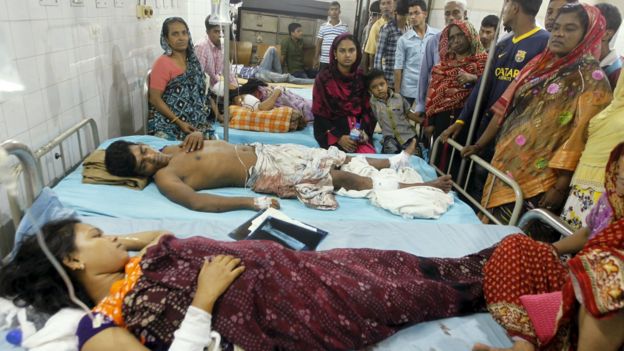 The assailants threw a set of homemade bombs into a crowd of around 20,000 Shiites as they gathered at Hussaini Dalan, a historical Shiite landmark, for a procession through Dhaka's old quarter. One person was killed and over one hundred people were injured in the blasts. Despite the bombing, thousands continued the procession.
Police recovered two other undetonated bombs from the scene of the attack. They have detained two suspects in connection with the bombings.
Bangladeshi authorities believe that the Islamic State had no involvement in the bombings. The spokesman for the Dhaka police, Muntashirul Islam, stated that the police had linked any militant group to the bombings.
Bangladesh's prime minister, Sheikh Hasina, states that international terrorist groups cannot function in Bangladesh. Ms. Hasina believes that the violence comes from opposition like Jamaat-e-Islami and the Bangladeshi National Party. Officials from the Awami League, Ms. Hasina's political party, support her belief and state that the Islamic State does not exist in Bangladesh. Ms. Hasina  and the Awami League believe that the Dhaka bombing was carried out to incite panic among citizens.
However, according to SITE Intelligence Group, which tracks radical Islamic propaganda and other information, the Islamic State has taken responsibility for the bombings. SITE Intelligence Group reported that a social media statement released by the Islamic State said that "soldiers of the Caliphate in Bangladesh" detonated the bombs in a temple of "polytheists in the city of Dhaka, during the holding of their polytheist rituals." The statement has not been independently confirmed.
Tensions have been running high in Bangladesh for weeks in the wake of reports of impending terrorist attacks. The United States government and some other foreign governments recently  reported that they had gathered intelligence indicating that a terrorist group linked to the Islamic State was planning to attack foreigners in Bangladesh. Some foreign embassies have even issued warnings to their citizens residing in Bangladesh against walking outside or attending gatherings.
The bombings are the third round of violent acts for which the Islamic State has taken credit in the past month. During that time, two foreigners, an Italian man and a Japanese man, were shot and killed in Bangladesh.
The Ashura procession, in which Shia Muslims mourn the martyrdom of the Prophet Muhammad's grandson, has occurred annually for over four centuries without violence. The bombings were the first time that Shiite Muslims, a minority group, were targeted in Bangladesh. Shiites have historically not been discriminated against and attacks against them are rare.
For more information, please see:
The Indian Express – Bangladesh Rejects Islamic State Claim of Attack on Shiites – 25 October 2015
BBC – Dhaka Blasts: One Dead in Attack on Shia Ashura Ritual – 24 October 2015
The Guardian – One Killed and Scores Wounded in Attack at Shia Site in Bangladesh Capital – 24 October 2015
International Business Time – Bangladesh Bomb Attack: ISIS Claims Responsibility for Blasts That Killed 1, Injured Over 100 in Dhaka – 24 October 2015
New York Times – ISIS Claims Responsibility for Attack in Bangladesh – 24 October 2015