By Sarah Lafen
Impunity Watch Desk Reporter, Europe
KIEV, Ukraine —  Prominent Belarusian journalist Pavel Sheremet was killed this past week after an explosive device placed on his car detonated in Kiev, Ukraine.  Sheremet worked for the news reporting website Ukrainska Pravda, and was traveling to host a morning radio show at the radio station Radio Vesti when the explosive was detonated.   Ukrainska Pravda is a respected site known for its tendency to cover media topics relating to corruption.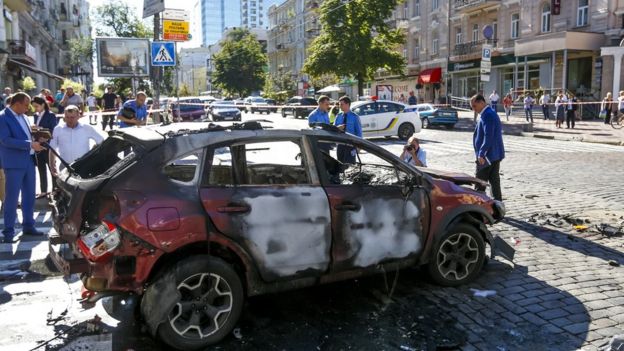 Investigators suspect a homemade explosion device attached to the bottom of the car with 400-600 grams of a substance similar to TNT was detonated via remote control.  The explosion itself occurred about a half mile away from a popular protest site in Ukraine.  At the time of the explosion, Sheremet was driving his partner Olena Pritula's car.  Pritula is the owner of Ukrainska Pravda, leaving police to wonder whether Sheremet was actually the target of the explosion.
Many speculate that Sheremet was targeted because of his line of work.  Sheremet was one of several well-known journalists who moved from Russia to Ukraine, where restrictions on the media are known to be looser than they are in Russia.  Sheremet was previously jailed for his critical reports regarding political oppression against Belarusian President Alexander Lukashenko, and was known to be an advocate for independent media in Ukraine.  As an expert in political corruption, Sheremet was widely known for his criticism of the Kremlin and mistakes made by Ukraine in its 2014 revolution and ensuing separation from Russia.
Police are investigating the possibility that the attack was an attempt by Russia to destabilize Ukraine, however the Russian Foreign Ministry denounced this notion.  The Ministry labeled Sheremet as a "known and respected journalist in Russia and a top professional."  Dmitry Peskov, spokesperson for Vladimir Putin, stated that the Kremlin was "seriously disturbed" by the attack, and expressed his hopes for a "rapid and impartial investigation."
Ukrainian President Peter Poroshenko, however, is "not excluding the possibility of some foreign interest" in the explosion, and hints at the involvement of Russia in the killing.  Poroshenko has requested the assistance of foreign agencies from the United States and the European Union to assist in the investigation.
For more information, please see:
BBC — Pavel Sheremet: Murdered Journalist Buried in Belarus — 23 July 2016
NBC — Car Bomb Murder of Pavel Sheremet Dashes Hopes in Post-Maidan Ukraine — 23 July 2016
CNN — Journalist Pavel Sheremet Killed in Kiev — 20 July 2016
The Guardian — Car Bomb Kills Pioneering Journalist Pavel Sheremet in Kiev — 20 July 2016
NY Times — Pavel Sheremet, Journalist in Ukraine, is Killed in Car Bombing — 20 July 2016
Author:
Impunity Watch Archive