By: Danielle L. Cowan (Gwozdz)
Senior Desk Operator, Africa
TRIPOLI, Libya – At least 35 bodies have been recovered from a Libyan military base that was overrun by Islamist-led militants.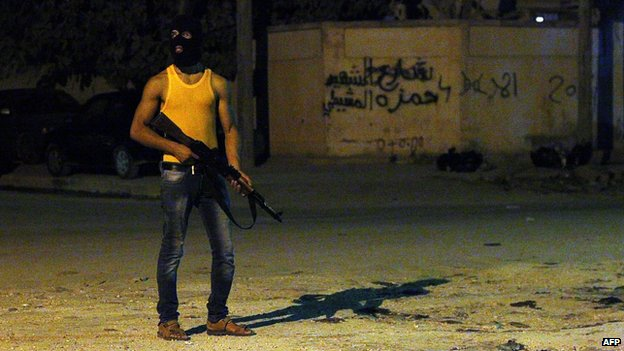 The special forces base in Benghazi was captured on Tuesday, after two days of intense fighting.
An Islamist and jihadist alliance announced the capture of the main military base in the eastern city in a statement Wednesday, which was confirmed by an army official.
Libyan special forces fled from the Benghazi military base as militants overwhelmed them with rocket fire. A special forces spokesman told Reuters that militants have since assumed control of the military camp.
Libya has been facing violence since 2011. The violence came from militias uprising against Muammar Gaddafi.
The new parliament is said to be holding an emergency meeting this week.
A Red Crescent spokesperson told AFP that "up to now we have managed to recover 35 bodies. But there are more to be found."
Further, the spokesperson said that "Special forces under the command of [Colonel] Wanis Abu Khamada withdrew after several attacks."
Many western governments – including the United States, UK, France, and Germany – have already asked their citizens to leave the country. Several have also evacuated their embassies.
At least 97 people have also been killed in fighting between militias battling for control of Tripoli's main airport in the past week.
The government has blamed clashes between the armed groups for starting a fire at a Tripoli fuel depot, and for preventing firefighters from putting out the blaze.
The special forces are one of the units of Libya's regular armed forces that support rogue Libyan general Khalifa Haftar, but they have not placed themselves under his command.
Hafta began his offensive against radical Islamist groups in Beghazi dubbed "Operation Dignity" in mid-May.
The militias reportedly agreed on a ceasefire on Wednesday to allow the blaze to be brought under control.
For more information, please visit:
BBC News – 'Dozens of bodies' at captured base in Benghazi, Libya – 30 July 2014
Alakhbar English – Libya Islamists capture Benghazi base – 31 July 2014
War News Updates – Diplomats Flee Libya As The Violence Escalates Out Of Control – 30 July 2014
Gsbuzz – 'Dozens of bodies' at captured base in Benghazi, Libya – 30 July 2014