By: Hannah Gabbard
Impunity Watch Reporter, Africa
ABUJA, Nigeria – On January 14th, 2019 terrorist organization Boko Haram attacked Rann in northeast Nigeria. 76,000 civilians living in Rann were internally displaced due to the conflict with Boko Haram.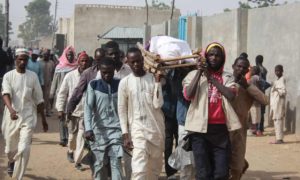 In the attack over 100 structures were destroyed or damaged by fires that burnt south and west parts of the city. Osai Ojigho, Director of Amnesty International in Nigeria, stated that he believed the attack may constitute a war crime as civilians in the city were intentionally targeted.
Internally displaced civilians living in Rann were dependant on aid agencies for necessities such as food and health services. Since the attack the humanitarian services have no ability to reach those still living in Rann.
72 hours after the attack about 9,000 civilians moved towards the Cameroon border. Many arrived in Bodo, Cameroon, seven kilometers from Rann, where Medicins Sans Frontieres was available with health services. Cameroon authorities forced many refugees to return to Nigeria. The UN Office for the Coordination of Humanitarian Affairs (UNOCHA) in Nigeria has begun to appeal to Cameroon not to send refugees back to Nigeria.
Attacks by Boko Haram have increased as the Presidential election in February nears. Current Nigerian President Muhammadu Buhari is seeking a second term.
For further information, please see:
Premium Times – How Boko Haram attack destroyed Nigerian community, Rann – 20 January 2019
Channel NewsAsia – Boko Haram claims attack on northeast Nigerian town of Rann – 18 January 2019
Amnesty International – Nigeria: Satellite imagery shows charred remains of Rann after Boko Haram attack – 18 January 2019
Reuters – Tens of thousands cut off from aid in northeast Nigeria after attack – 18 January 2019
The Guardian – Thousands of Nigerian refugees fleeing Boko Haram forced back by Cameroon – 18 January 2019
Medicins Sans Frontieres – Thousands fleeing Rann attack seek refuge in Cameroon – 16 January 2018