By: Danielle L. Cowan (Gwozdz)
Senior Desk Operator, Africa
ABUJA, Nigeria – At least six people have been killed in a suicide bombing at a college in northern Nigeria's biggest city, Kano.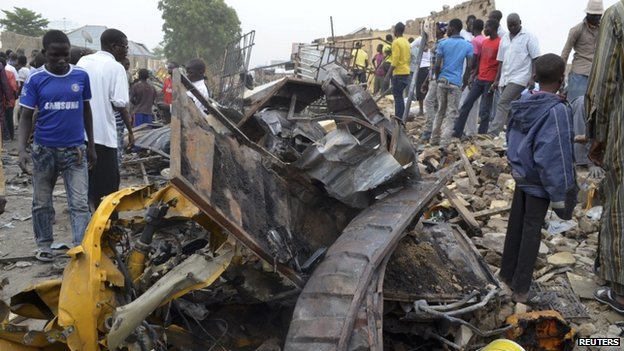 The bomber is reported to be a female and had blown herself up as students waited in line to check off their names on the admission's list.
In addition, the government states that a 10-year-old girl has been arrested in a neighboring state for wearing a suicide belt.
This attack has been the fifth one in the city of Kano since this past Saturday. Three of these five attacks have been carried out by female bombers.
Boko Haram, the militant group, has been blamed for all of these attacks.
These female attackers are said to be a new trend in the attacks.
No one knows if the female attackers are being recruited or forced kidnapped girls to carry out these suicide missions. Currently, Boko Haram is holding 200 girls that were abducted from school.
A witness stated that bodies were strewn around everywhere from the blast at the college.
An additional seven people are said to have been wounded from the blast.
This year alone, the militants have killed over 2,000 people in their attacks.
In 2013, Nigeria's president, Goodluck Jonathan, imposed a state of emergency in the northern states of Borno, Yobe, and Adamawa, vowing to crush the insurgency.
For more information, please visit:
BBC News – Nigeria Kano blast: Boko Haram blamed for six deaths – 30 July 2014
AllAfrica – Nigeria: Kano Blast – Boko Haram Blamed for Six Deaths – 30 July 2014
GH Headlines – Nigeria Kano blast: Boko Haram blamed for six deaths – 31 July 2014
Hallmark News – Nigeria Kano blast: Boko Haram blamed for six deaths – 31 July 2014
Africa News Desk – Kano Blast – Boko Haram Blamed for Six Deaths – 31 July 2014