By Hannah Stewart
Impunity Watch Reporter, Africa
ABUJA, Nigeria — France will not negotiate with gunmen claiming to be from the Nigerian Islamist group Boko Haram who kidnapped a French family of seven, Defense Minister Jean-Yves Le Drian said on Tuesday.  Moreover, while Le Drian deplored the fact children were among the hostages, he stated: "We do not play this bidding game."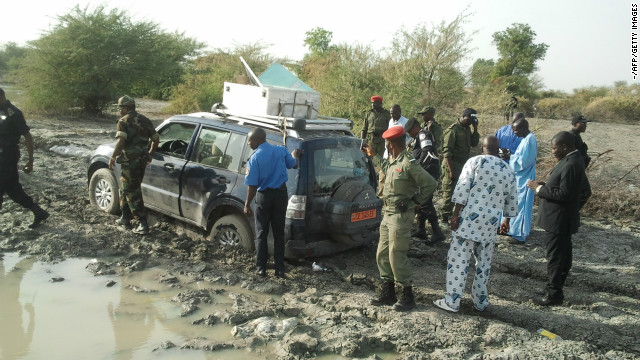 He went on to say, "we will use all [other] possible means to ensure these and other hostages are freed."
The three adults and four children were abducted in Cameroon last week.  The father reportedly works for the French company G.D.F. Suez, which is based in Yaounde, Cameroon.  G.D.F. Suez is currently developing a natural gas liquefaction project in Cameroon.  Reports state that the family is being held in Nigeria.
In a video posted on YouTube on Monday, gunmen threatened to kill the family unless authorities in Nigeria and Cameroon release prisoners held there.  The masked man, who identified himself as a Boko Haram agent, states that French President Francois Hollande "started war against Islam, and we must fight him everywhere."
Boko Haram is believed to have killed at least thousands since 2009 in an attempt to establish an Islamist state in Nigeria.
The kidnapping has illustrated the heightened risk to French citizens in Africa due to France's involvement in Mali combating Islamic militants.
However, the abduction was the first case of foreigners being seized in the predominantly Muslim north of Cameroon.  This region – with typically porous borders – is considered to be within the operational sphere of Boko Haram and other Nigerian militant groups.
Simultaneous to this abhorrent event, the conflict between Nigerian troops and Boko Haram continued this week in Maiduguri, the capital of Borno state and main base of Boko Haram.
Nigerian troops reportedly killed a suspected Boko Haram commander and three of his lieutenants during a recent operation.  The operation was conducted in order to apprehend Boko Haram fighters thought to be involved in attacks that killed three civilians and left six soldiers wounded last week.
For more information, please see:

BBC – French Family Kidnapped in Cameroon "Shown in Video" – 26 February 2013
CNN – France Blasts "Cruelty" as Boko Haram Displays Kidnapped Family – 26 February 2013
News.com.au – Nigeria Kills Boko Haram Commander – 26 February 2013
Reuters – France Says Will Not Negotiate with Cameroon Hostage-Takers – 26 February 2013
Author:
Impunity Watch Archive