By: Emily Green
Impunity Watch Reporter, South America
SAO PAULO, Brazil – Sao Paulo Mayor, Joao Doria, is promoting the distribution of dry pellets as a solution to the country's hunger crisis. Brazilian prosecutors have opened an investigation into the plan to include these pellets in school meals.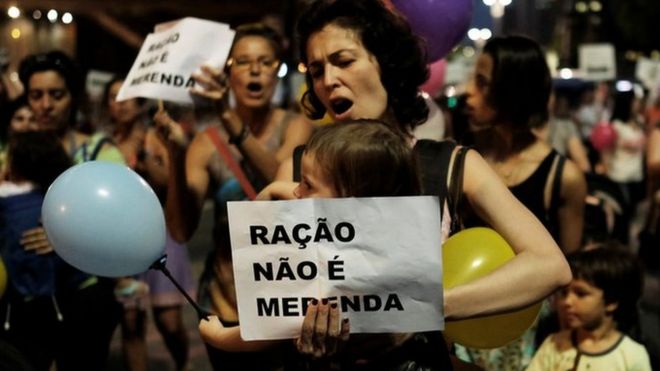 This investigation was prompted by protests and criticism of the new hunger-fighting initiative. Prosecutors claim that the product has not been adequately examined and question whether it passed the necessary health tests. The pellets' nutritional value is crucial because the plan targets low income school children.
The pellets, known as "human pet food," are called farinata. They are made out of the dehydrated leftovers of food from the commercial processing industry. The leftovers used are close to expiring or are "out of marketing standard." The public has no further information on exactly what ingredients make up these pellets.
Farinata looks dehydrated and resembles popcorn. It can be eaten in several different ways including being mixed into foods like cake and then eaten directly. Mayor Doria did not specify which kind would be given to schools.
A video promoting the nuggets claims that they contain all the necessary nutrients including protein, vitamins, and minerals. It emphasizes that distribution of the free meal substitute will benefit poor families, be good for the environment, and reduce food waste. However, the Regional Council of Nutritionists and other bodies have expressed doubts about the nutritional value. Prosecutors demand more information about the make-up of these pellets.
The opposition calls it "a human rights violation that is in total disregard for the advances made in recent decades in the field of food security."
However, the non-profit company behind the pellets, Plataforma Sinergia, assures that the product meets all legal requirements. Rosana Perrotti, the founder of this Catholic organization, assures that they process the food correctly by following all techniques of the industry. The result is that normally wasted food is given an additional two years of shelf life.
Mayor Doria is a multimillionaire businessman who is a possible presidential candidate for next year. He supports the pellets and describes them as "solidarity food" that will aggressively combat hunger. Likewise, Cardinal Scherer defends the farinata and adds that the food received a blessing from Pope Francis. He remarked, "it offends me when people call this dog food, and say it is degrading to the poor. It is degrading to deny them food."
The plan is a reaction to Brazil's worsening condition. Poverty, homelessness, and unemployment are consistently on the rise. In Sao Paulo, a report from 2013 shows that nearly 1.5 million people live in hunger. In total, around 7.2 million Brazilians suffer from lack of food.
For more information, please see:
BBC News – Sao Paulo's food pellets plan for poor children divides Brazil – 20 October 2017
Telesur – Brazil Probes Plan to Give Poor People 'Human Pet Food' – 20 October 2017
Epoch Times – Sao Paulo's Mayor to Feed City's Poor With 'Dog Food' – 20 October 2017
The Guardian – Brazil prosecutors investigate plan to give reconstituted food to poor people – 19 October 2017
Motherboard – These Mystery Food Pellets Are Sao Paulo's Attempt to Combat Hunger – 16 October 2017