By: Fernando Oliveira
Impunity Watch Reporter, South America
RIO DE JANEIRO, Brazil – On September 23th, 2017, Brazilian Defense Minister Raul Jungmann authorized the deployment of about 950 federal army soldiers in Rio de Janeiro city, given the formal state government request of assistance to face the worsening of drug-related violence.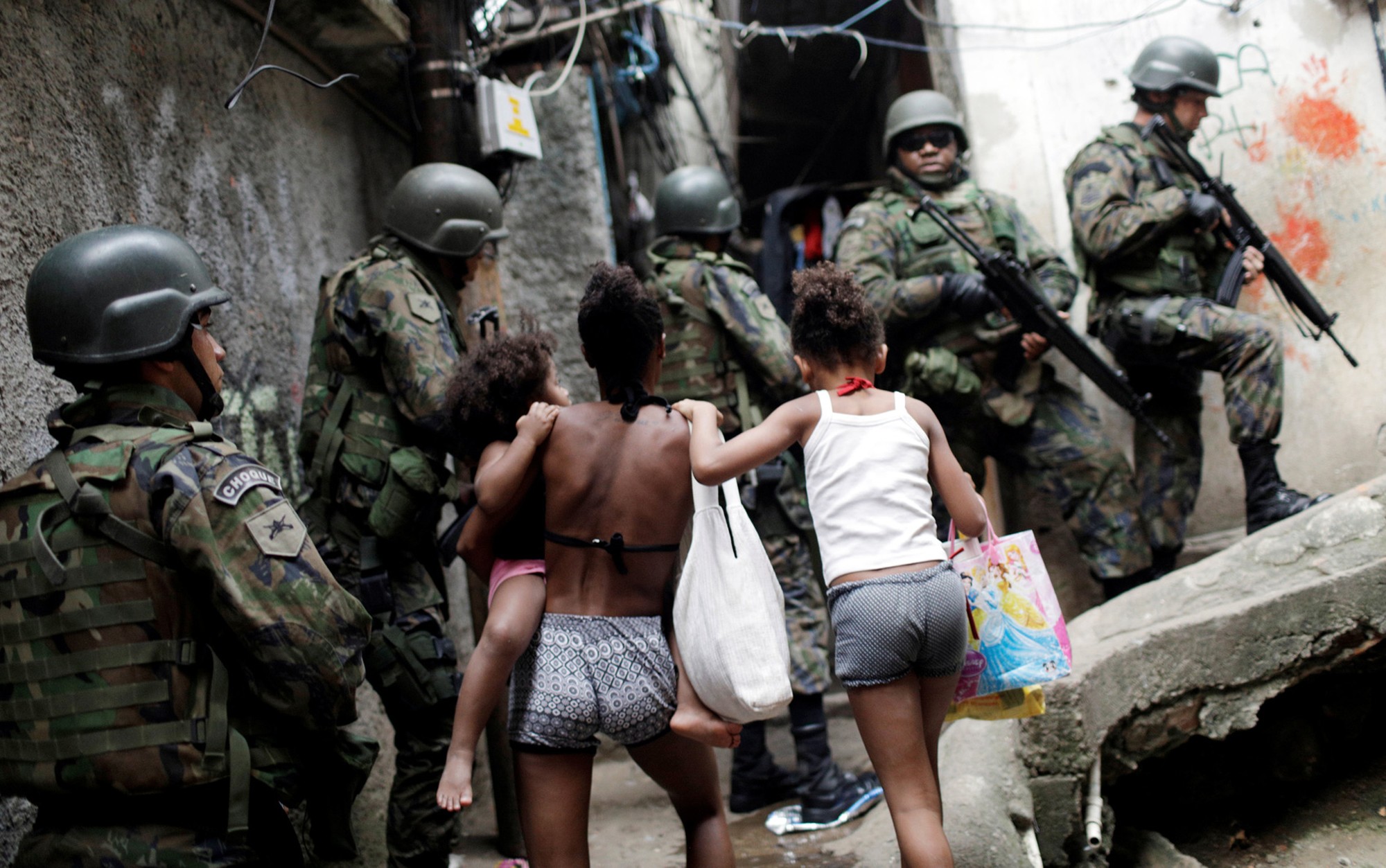 After a whole week of several fire shooting episodes, last Saturday, September 23,  Rio de Janeiro city awoke with a war scenario surrounding one of its biggest favelas, named Rocinha. Armored tanks were on the streets, military helicopters in the sky, and roads were blocked in order to help the cash-strapped state police forces step into the slum area.
Rocinha – as many other Rio`s favelas – is a very poor neighborhood located in the Southern area of the city, not far from some of the most expensive real estate areas. It has about 70,000 inhabitants which were under trafficking gang rules until 2011, when the state government set forth a "pacification program" that pushed criminals, mainly drug dealers, out of the slum.
However, soon after the 2016 Summer Olympics, a wide spread corruption scandal led the former state governor, Sergio Cabral, to jail. According to federal prosecutors, he was the leader of a huge bribery mafia that diverted millions of dollars from state sources, and has been sentenced to more than 45 years in prison. As a consequence, state institutions, including the state police department, have run out of money and the "pacification program" – which had originally been successfully implemented in several favelas – began to run down.
As the "pacification program" weakened, the drug gangs went back to Rocinha. Currently, they are completely reinstalled, and started to fight among them toward controlling the worthiest drug trade points within the slum. War weapons, such as rifles AR-15 and grenades, are constantly used by the drug traffickers on rival gang firefights, and also against the state police forces. Be that as it may, the only hope for the poor Rocinha's population is to believe that the federal troops will reestablish the order in the neighborhood, and life will return to normal.
For further information, please see:
Reuters — Brazil army deploys in Rio slum as drug-related violence worsens – 22 September 2017
Washington Post – Army mobilizes in Rio as shootings erupt in several areas – 22 September 2017
New York Times – Sérgio Cabral, Ex-Governor of Rio de Janeiro, Arrested on Corruption Charges – 17 November 2016
Wall Street Journal – Brazil Judge Sentences Ex-Rio Governor to 14 Years in Corruption Case – 13 June 2017
Foha de São Paulo – Ex-Governor of Rio de Janeiro Sérgio Cabral Sentenced to 45 Years in Prison – 21 September 2017
Author:
Impunity Watch Archive