By Cintia Garcia
Impunity Watch Reporter, South America
BRASILIA, Brazil—As suspended Brazilian president Dilma Rousseff presently stands in impeachment trial for failing to comply with fiscal rules, the chief prosecutor has called for new arrests. The chief prosecutor Rodrigo Janot has ordered the arrest of Brazil's ex-president Jose Sarney, senate speaker Renan Calheiros, ex-lower house speaker Eduardo Cunha, and PMDB leader Romero Juca. All four are members of the PMDB party, the largest political party in Brazil.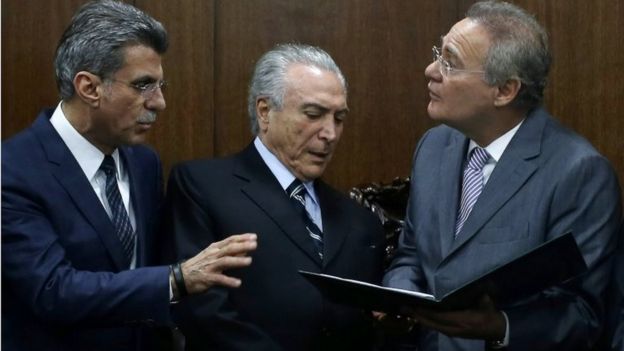 The four politicians are accused of obstructing a two year investigations in the corruption scandal known as Operation Car Wash. The corruption scandal surrounds the state-owned oil company, Petrobras. The order to arrest the four political powerhouses stems from a taped telephone conversation. The alleged voices in the recordings are of Mr. Calheiros, Mr. Sarney, and Mr. Juca in which they discuss derailing the investigation. The conversation was leaked by a Brazilian newspaper. The tapes were produced by senator Sergio Machado who ran a Petrobras-owned logistic company. He made the recordings in return of a plea deal.
Prior to the leaked conversation, Mr. Cunha was removed by the Supreme Court as the lower house speaker for obstructing Justice. He is under investigation for receiving "kickbacks" from Petrobras contracts and for hiding 16 million in Switzerland. Mr. Cunha never declared the bank accounts.
The accused have denied the allegations. Mr. Calheiros stated that the request is "unreasonable, disproportionate and abusive." If the allegations are true, this would be a severe blow to current interim president, vice president Michel Temer a member of the PMDB party. Since becoming president both members of his party and cabinet members have been removed from office. These events would further support ousted President Dilma Rousseff claim that her impeachment trial is masking a coup led by the opposition party PMDB.
In order for the arrest to proceed, the Supreme Court must approve the arrest. The Supreme Court's approval is necessary because three of the four men are current members of the senate. The Supreme Court has refused to deny or affirm the truth of the allegations.
For more information, please see:
Aljazeera—Brazil Prosecutor Seeks Arrest of top Politicians—7 June 2016
BBC—Brazil Crisis: A Timeline—12 May 2016
BBC—Brazil Prosecutor Seeks Arrest of top Politicians, Media Report—7 June 2016
Reuters—Brazilian Prosecutors Targets Senior Ruling Party Leaders: Report—7 June 2016