By Alexandra Sandacz
Impunity Watch Reporter, Europe
LONDON, United Kingdom – The United Kingdom's top cardinal, Keith O'Brien, is to step down as an archbishop after news reports of inappropriate behavior toward various priests in the 1980s surfaced. Furthermore, he will not to take part in the election of the next pope to succeed Pope Benedict XVI.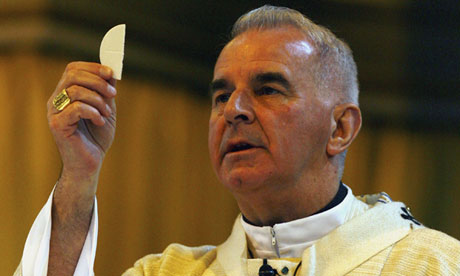 Cardinal O'Brien's announcement comes a day after a the British newspaper, The Observer, reported that three priests and one former priest brought allegations against O'Brien that date back 30 years.
One former priest claims Cardinal O'Brien made an inappropriate approach towards him in 1980, after night prayers, when he was a seminarian at St Andrew's College, Drygrange. Furthermore, he resigned as a priest when Cardinal O'Brien was first made a bishop.
Another complainant says while he was living in a parish, inappropriate contact took place between him and O'Brien. A third complainant stated that he consistently experienced "unwanted behavior" by the cardinal in the 1980s. Lastly, the fourth complainant claims the cardinal used night prayers as an "excuse for inappropriate contact".
James Robbins, BBC's world affairs correspondent, reported that for years, the Vatican squashed criticism of other cardinals who might have been involved in covering up sexual abuse. For example, Cardinal Roger Mahony of Los Angeles is attracting attention for his role in the cover-up of sexual abuse by priests.
However, the recent accusations will be taken more seriously because Cardinal O'Brien was allegedly involved directly in improper behavior towards other priests.
Ironically, Cardinal O'Brien is famous for his outspoken defense of Catholic teaching on abortion, euthanasia and homosexuality.
Last year, Stonewall Scotland, a gay rights group, named O'Brien "Bigot of the Year" after he said gay marriage was a "grotesque subversion of a universally accepted human right".
Catherine Deveney, author of the relevant Observer piece, stated her story was important because the Cardinal set a very adamant "moral blueprint" for the way other people should lead their lives.
She further stated, the four accusers were "men of integrity" who had "done a difficult thing and acted according to their conscience".
Although Cardinal O'Brien contested the allegations, he stated he would not attend the conclave because he not wish media attention in Rome, during conclave, to be focused on him. Consequentially, Britain will have no voice in the conclave to choose Pope Benedict's successor.
For further information, please see:
BBC – Cardinal Keith O'Brien Resigns as Archbishop – 25 February 2013
CNN – Scandal Threatens to Overshadow Pope's Final Days – 25 February 2013
The Guardian – Cardinal Keith O'Brien Resigns – Full Statement – 25 February 2013
USA Today – Britain's Cardinal Keith O'Brien to Skip Papal Elections—25 February 2013
Author:
Impunity Watch Archive