By Terance Walsh
Impunity Watch Reporter, Europe
LONDON, United Kingdom — British Prime Minister and Jordanian King Abdullah are searching for a solution to the Abu Qatada question after the European Court of Human Rights denied Qatada's extradition from the UK to Jordan.  Qatada is a radical Muslim cleric who British judges have called "truly dangerous."  The European Court of Human Rights in Strasbourg denied his deportation because it is likely that he will be tried in Jordan with evidence that was extracted with torture.  Jordan plans to contest the ruling from the Strasbourg Court.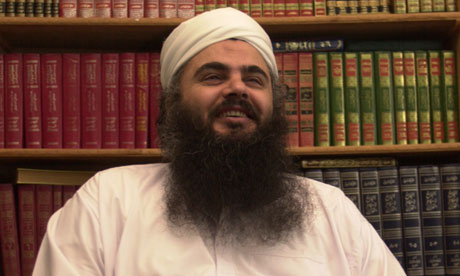 Qatada was never tried in Britain but has been detained in a sort of house arrest where his movements are tracked by law enforcement.  He has been convicted in Jordan while absent from the country for his involvement in two major terror plots.  Qatada asserts that those convictions were based on evidence obtained through torture.
The UK and Jordan signed a diplomatic memorandum used to protect the human rights of those who are extradited from the UK.  The Court of Human Rights noted this memorandum but nevertheless concluded that Qatada would likely be retried in Jordan.
"Torture and the use of torture evidence were banned under international law," said the Court.  "Allowing a criminal court to rely on torture evidence would legitimise the torture of witnesses and suspects pre-trial. Moreover, torture evidence was unreliable, because a person being tortured would say anything to make it stop."  The Court went on to note instances in which Jordanian courts have used evidence gained with torture in trials.
The Strasbourg Court's ruling puts the United Kingdom in a difficult situation.  Qatada is due to be released on bail after a British judge ruled that his six-year sentence could not be sustained.  Now the UK faces a situation in which they would have a man dubbed as a national security threat walking free unless Qatada can be deported to Jordan.
"It is simply isn't [sic] acceptable, that after guarantees from the Jordanians about his treatment, after British courts have found that he is dangerous, after his removal has been approved by the highest courts in our land, we still cannot deport dangerous foreign nationals," UK Home Secretary Theresa May said.  "The right place for a terrorist is a prison cell. The right place for a foreign terrorist is a foreign prison cell far away from Britain."
Following the ruling UK Prime Minister David Cameron has been working with King Abdullah of Jordan to find a solution to the Qatada issue.  "They agreed on the importance of finding an effective solution to this case, in the interests of both Britain and Jordan," a spokesman for 10 Downing Street said.  "The PM complimented the king on the close and effective collaboration between Britain and Jordan on this case over a number of years."
The European Human Rights Court's ruling also raises questions about the prospects of deporting other terror detainees, like extremist preacher Abu Hamza.  Hamza was denied extradition to the United States by the Human Rights Court in 2010 due to concerns that Hamza would be treated inhumanely.
Hamza is set to find out in a new ruling in the coming weeks whether or not he will be extradited to the United States.  The Qatada ruling casts doubts on the prospect of Hamza being sent to the United States if British courts determine that he will not be treated fairly in the US.  Because he too has completed his sentence in Britain he will be allowed to walk free if he is not deported.
The Qatada case has set off British commentators who feel the UK should separate itself from the human rights policies of the European Union if favor of taking more control over the security interests of the UK.
British conservative commentator Bruce Anderson wrote:
It is true that the initial European Convention was drafted by a British lawyer, with Churchill's encouragement, in order "to export the British system". The key word there is "export". War and dictatorship had shattered legal systems across the continent. As John Hayes puts it, those countries had to rediscover decency. That was not true of us. They had everything to learn from Britain and nothing to teach. Our endeavours to assist in the creation of the ECHR were noble and magnanimous. But this was for export only. The British founding fathers would not have dreamed – or nightmared – that a time would come when their exported creation would set itself up as a European Supreme Court and seek to prevent a British government from protecting British interests
Other Britons, however, have committed themselves to following the lead of the European Human Rights Court.  Walter Bagehot wrote in The Economist: "If Mr. Qatada is a dangerous terrorist, the British government is at liberty to press criminal charges against him. If (as must be assumed) there is insufficient evidence to charge him in a British court, but the government is sure he is dangerous, then they are free to pass British laws neutralizing [sic] the dangers that he poses."
In his article, Bagehot advocates for the idea that Britain is correct to buy into an international justice system that condemns the use of torture.
The Qatada case presents a theme that will likely continue to present itself: the conflict between national security interests and the interest in protecting individual rights.
For more information please see:
ABC News — Jordan To Contest EU Extradition Ban On Preacher — 10 February 2012
The Economist — The Oddity Of Britain's Human Rights Debate — 10 February 2012
BBC — David Cameron And King Abdullah Discuss Abu Qatada Case — 9 February 2012
The Telegraph — Abu Hamza Could Also Be Bailed After Abu Qatada Ruling — 8 February 2012
BBC — 'Unacceptable' UK Can't Deport Abu Qatada – Theresa May — 7 February 2012
BBC — Abu Qatada Wins Jordan Deportation Appeal — 17 January 2012
The Guardian — Abu Hamza Extradition To US Blocked By European Court — 8 July 2010
Author:
Impunity Watch Archive