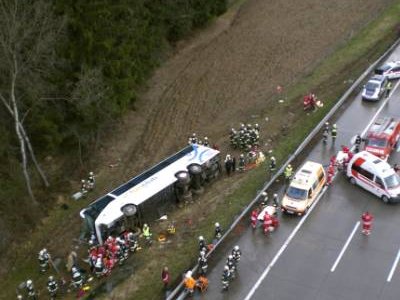 By Patrick Vanderpool
Impunity Watch Reporter, South America
LA PAZ, Bolivia – At least 28 people were killed, and at least 44 were injured, when a passenger bus drove over the side of a ravine in Bolivia.  The injuries include one child being killed and 16 other children being injured.  According to police, the bus involved was carrying approximately 70 people and was traveling from Cochabamba, a central city, to the southwestern city of Potosi when it drive through a guard rail and fell 11 meters to the ground.
The accident occurred at 1:30 a.m. on Sunday in the Pongo, K'asa area.  Police commander Col. Hernan Trujillo stated that the bus' brakes had failed causing the driver to lose control of the vehicle and plunge into the ravine.
Although Roberto Gandarillas, the bus driver, claimed that he alerted the passengers about the bus' brake failure and told the passengers to move to the back of the bus, the precautions did not prevent the injuries.  When authorities arrived at the scene of the accident, Gandarillas attempted to flee; however, he was quickly obtained and arrested.  The Bolivian police immediately tested Gandarillas for alcohol, fearing that he may have been intoxicated, but the test results have not yet been returned.
Officials also fear that the bus may have been overloaded because the bus was only equipped to hold 45 passengers.  The bus' passengers told local authorities that Gandrillas was speeding as the time of the accident.
This accident comes only days after a separate bus accident on the same highway claimed the lives of 13 people and injured 37 others.
Leticia Costa, a passenger on the bus who was injured, remembered that she was sleeping, but woke up "when passengers began screaming at the driver to stop."  "He accelerated even more and in one of the turns we went off the side of the road and bus hurled over the side," Costa said.
Accidents such as this are not uncommon on the Andean region and generally involve unregulated buses traveling too quickly on poorly maintained roads.
For more information, please see:
Big Pond News – Bolivia Bus Crash Kills At Least 25 – 29 June 2010
Hindustian Times – 13 Dead in Bolivia Bus Crash – 28 June 2010
Thaindian News – 28 Dead, 44 Hurt In Bolivia Bus Accident – 28 June 2010
Author:
Impunity Watch Archive