By: Katherine Hewitt
Impunity Watch Reporter, Asia
PHNOM PENH, Cambodia – Next year, Cambodia is set for a presidential election. For the most part the country has a two party system- the Cambodian National Rescue Party (CNRP) and the Cambodian People's Party (CPP).  There are a handful of other smaller political parties, but they do not hold any seats in Parliament nor do they have popular backings.
The current political party in control is the CPP under the direction of Prime Minister Hun Sen. He is a former member of the Khmer Rouge, the violent Communist group that was in power from the late 1960s to 1979. Hun Sen has served as Prime Minister since 1989.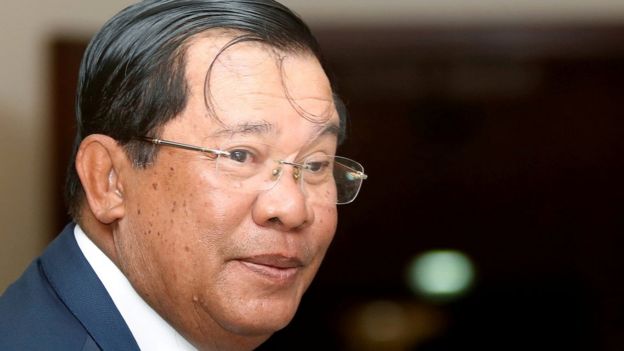 In 2013, the CPP only narrowly won the election over the CNRP. During the local elections this past June the CPP lost ground. Polls suggest that the CNRP is gaining more support and will likely win the Presidential elections next July.
As a response, Prime Minister Hun Sen is cracking down on the opposition party in Cambodia. A new law was passed that allows the government to abolish any political parties while leaders face criminal charges. This poses a threat to the CNRP as the current government accuses the leaders of plotting a coup. Accordingly, on October 6, 2017 the current government filed a case to dissolve the CNRP.
In September the leader of the CNRP, Ken Sokha, was arrested on the charge of treason. In early October Sen threatened further arrests on the same charge. A government official leaked to the deputy President of the CNRP that she was also targeted for arrest. She has since fled the country. Many other CNRP parliament members have done so as well.
Prime Minister Hun Sen states that he is trying to protect Cambodia from outside influences and preserve peace and stability in the country.   In particular he believes that the U.S. is interfering in the internal affairs of Cambodia via backing the CNRP coup.
The group denied the allegations calling them politically motivated and an attempt to end democracy in Cambodia.  Deputy President of the CNRP, Mu Sochua, is calling for international sanctions on Sen and his 'cronies.'  She believes that other nations should take a stand on democracy and human rights to demonstrate to Sen that his behavior is not acceptable and must change.
She says, "The time for statements has passed. It's time for sanctions, targeted sanctions. Also suspension of technical aid to the government of Cambodia.  Time is up for democracy."
There are 8 months until the elections in Cambodia.  Socha hopes the sanctions will push Sen to ensure free and fair elections or risk not being a recognized government.
For more information, please see:
AlJazeera – Cambodia moves to dissolve opposition party CNRP – 6 October 2017
BBC – Cambodia opposition politician Mu Sochua 'feared arrest' – 6 October 2017
Reuters – Exclusive: Cambodian opposition leader calls for sanctions on leadership – 4 October 2017
Author:
Impunity Watch Archive