By Christine Khamis
Impunity Watch Reporter, Asia
PYONGYANG, North Korea –
North Korea's Supreme Court sentenced Canadian Pastor Hyeon Soo Lim to life in prison with hard labor last week. Mr. Lim was detained in February and was charged for "subversive plots and activities" while on a routine missions trip to North Korea. Prosecutors originally called for the death penalty as punishment for his alleged crimes against North Korea's government.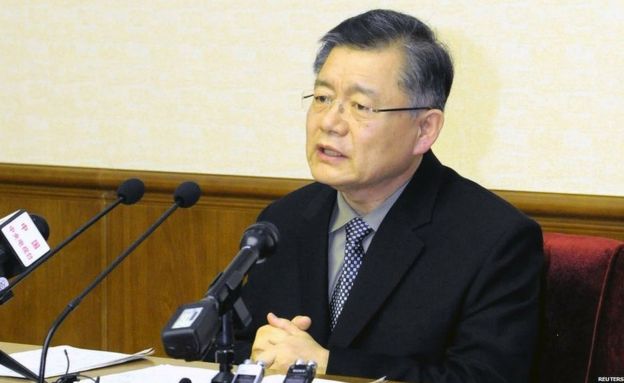 North Korea's official news agency, KCNA, has reported that Mr. Lim confessed to committing anti-DPRK religious activities, conducting false propaganda, and aiding in an operation to lure and abduct North Korean defectors.
Mr. Lim traveled to North Korea in January for a visit that his family describes as a routine humanitarian trip. Mr. Lim, who emigrated from South Korea to Canada in 1986, is a minister at the Light Korean Presbyterian Church in Toronto. He has completed over 100 trips to North Korea in order to support projects that his church initiated there, including an orphanage, nursery, and nursing home.
In July, Mr. Lim was brought to a news conference by authorities, where he read a statement confessing to attempts at bringing down North Korea's government. Associated Press reports that Mr. Lim admitted that he was working toward creating a religious state in North Korea while taking advantage of the policies of the United States and South Korea. Mr. Lim gave another confession at a church in Pyongyang in August.
Canada's Department of Foreign Affairs objects to the sentence given to Mr. Lim, especially in light of his age and poor health. Canadian officials were not given access to Mr. Lim during his detainment. The Department of Foreign Affairs also commented on this in its statement, stating that the North Korean government's refusal to let Canadian officials confirm Mr. Lim's health and wellbeing is a violation of the rights of states to have access to their citizens under the Vienna Convention.
North Korea has been known to detain foreigners for religious or missionary activities, accusing them of committing crimes against the state. Other westerners that have been held by North Korea in the past have also given public confessions under pressure from its government.
International human rights groups have criticized North Korea for its trials of foreign detainees, in part because their family members and outside lawyers are not allowed to visit them or defend them in court.
For more information, please see:
BBC News – N Korea Sentences Canada Pastor to Life in Jail – 16 December 2015
CNN – North Korea sentences Canadian pastor Hyeon Soo Lim to life in prison – 16 December 2015
The New York Times – North Korea Sentences Canadian Pastor to Life in Prison – 16 December 2015
The Guardian – Hyeon Soo Lim: Canadian Pastor Given Life Sentence in North Korea – 15 December 2015
Author:
Impunity Watch Archive