By Erica Smith
Impunity Watch Reporter, Africa
BANGUI, Central African Republic — As violence in the Central African Republic (CAR) mounts the government announced Wednesday that it will launch a campaign to disarm Seleka rebel fighters who overthrew the president in March.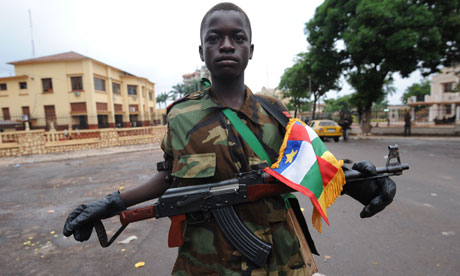 Minister of Public Security Jose Binoua announced the campaign in response to the growing concern over a surge in robberies, rapes, and murders throughout  the country. The campaign will focus on the capital Bangui around six designated military barracks where Seleka fighters will be given a location to hand in their weapons.  The city limits will be closed to cars for the duration of the program which is expected to last ten days.
The campaign is being carried out by the police in conjunction with Seleka leaders and the CAR military. A previous two month disarmament campaign led by the African regional force FOMAC had little success in decreasing the number of weapons in the streets.
There is a growing fear the the CAR will become a failed state. Prof. Emmanuel Yenshu Vubo, a political science lecturer at the University of Buea, Cameroon, told the Cameroon Tribune that the situation in the CAR is "a result of long standing instability in the country and the tacit understanding among Central African Republic elite that the force of arms can be a mode of getting to power. We can add the fact that the major international actors have been either accomplices or have actively supported the situation." Yenshu Vubo went on to explain that the history of the CAR is one marked with continual military takeovers and the present leaders are unequipped to deal with the humanitarian problems the country now faces.
Even as the security situation in the country deteriorates the UN food agency is scaling up its operations to ensure that displaced persons will have food.  Humanitarian agencies are increasingly becoming a target for looting. There is also a concern that food and supplies will be harder to get into the country since Cameroon has closed its border with CAR after Seleka rebels attacked and killed a border guard.
For further information, please see:
All Africa — Central African Republic: Govt Moves to Disarm Rebel Fighters, Halt Violence — 4 September 2013
All Africa — Central African Republic: Tell-Tale Signs of Breakdown — 2 September 2013
All Africa — Central African Republic: 'CAR Has Never Known Political Consensus' — 2 September 2013
UN News Centre — Central African Republic: UN food relief agency scaling-up operations despite deteriorating security — 30 August 2013
Author:
Impunity Watch Archive