by Emilee Gaebler
Impunity Watch Reporter, South America
QUITO, Ecuador – Chevron has released statements that they will appeal an Ecuadorian court ruling, sustaining an earlier decision, that they pay $18 billion in damages to the indigenous and rural residents in the northern Amazonian region that was destroyed in the early 1990s by the company's negligent business practices.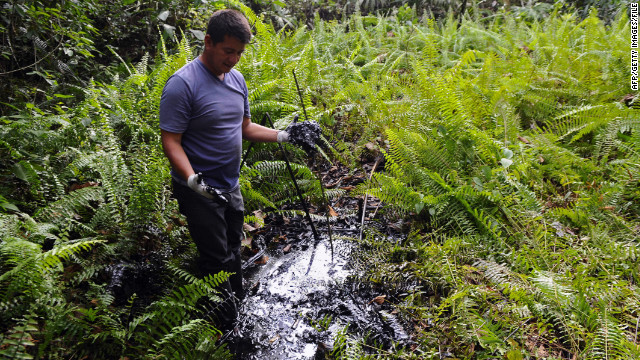 In a case that first entered litigation in 1993, Chevron has fought aggressively to eradicate any of their liability for the environmental destruction in the Amazonian rainforest.  Chevron is making a variety of claims to fight the recent decision handed down by an Ecuadoran appeals court on January 4.
"Today's decision is another glaring example of the politicization and corruption of Ecuador's judiciary that has plagued this fraudulent case from the start…Chevron does not believe that the Ecuador ruling is enforceable in any court that observes the rule of law," was Chevron's official statement.
The appeal is being made to Ecuador's national court and asserts that reports and evidence made against Chevron were fabricated and that bribes were offered by plaintiffs and accepted by the judges.  Additionally, Chevron is claiming that a law was retroactively applied to the case and that blatant disregard has been shown towards their proof that releases of liability were signed by the government of Ecuador early in the 1990s.
In the original decision, released over a year ago, Chevron was told that to make a public apology to Ecuador and if they did not, then the payment required of them would be increased to $18 billion.  To this date, no apology has been issued by the company.
The case centers around the destruction of the Amazonian rainforest that occurred in the early 1990s, the effects of which are still felt to this day.  Chevron's operations allegedly used substandard products, dumped more than 18 billion gallons of toxic waste into the Amazon river, abandoned almost a thousand waste pits and spilled millions of gallons of oil into the environment due to pipeline ruptures.
The roughly 30,000 indigenous and rural individuals, who make up the plaintiffs in the case, continue to be deeply affected in their day-to-day lives.  They are forced to drink contaminated water from the still-polluted river.  They have difficulties subsisting as wildlife has been almost eradicated and the land has been degraded.
There is also an ongoing health crisis.  Those living in the area suffer from respiratory conditions, skin diseases, reproductive problems and higher cancer rates than average.  The plaintiff's attorney, Pablo Fajardo, stressed that these acts by Chevron are poorly disguised racist attempts to deny the right of access to justice to the indigenous people.
Beyond the appeal, this case might soon be heard on the international level.  The Hague, last February, also began investigations into this case.  A decision by the tribunal is expected to be released soon as to whether or not they have jurisdiction to hear the case.
For more information, please see;
Insurance Journal – Chevron Appeals$18 Billion Judgment Ruling in Ecuador Lawsuit – 23 Jan 2012
CNN – Chevron Appeals $8.6 Billion Ruling – 21 Jan 2012
Indian Country – Indigenous Ecuadorians Take Their Struggle Against Chevron to International Courts – 18 Jan 2012
Oxfam America – Chevron's Last Gasps in its Fight Against the Amazon? – 17 Jan 2012
The New Yorker – Reversal of Fortune – 9 Jan 2012
Author:
Impunity Watch Archive