By: Danielle L. Cowan (Gwozdz)
Impunity Watch Senior Desk Operator, Africa
PRETORIA, South Africa – A South African man has been accused of keeping his children chained in a hostel room for eight years has been held in police custody.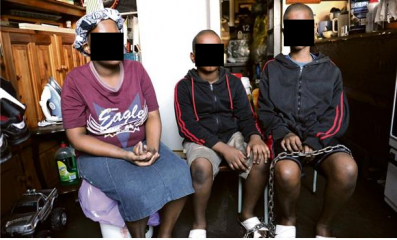 The South African man is 50-years-old. He appeared in court in Alexandra, a township north of Johannesburg and has been charged with child neglect. He was arrested on Friday. The man's 46-year-old wife also was involved.
The children he chained are of the ages of 14, 18, and 24. Each child shows signs of abuse and injuries on their ankles and wrists.
The police found the children after the 24-year-old escaped, allegedly also mentally ill, police state. He escaped when his parents left the hostel.
The children were freed on Friday after the eldest child escaped. The children were brought to a hospital. The father claims he had to chain up the eldest son because of the mental illness.
The father stated that the eldest child "becomes very violent so I had to keep him chained in the house."
Neighbors described the living conditions of the home as "appalling."
A resident of the hostel of nine years stated she was "shocked" when the story was released. "I live right next door to them but I never saw or heard the kids. I see Emmanuel leaving for work. He makes sure his room is always locked.
The father further reported that the reason he locked up the other children is because the world was dangerous and he did not want them killed.
After the children were released from the hospital, they were taken to a place of safety.
When other residents heard of the locked-up children, cops had to stop them from attacking the 50-year-old father.
The police stated that the "room was full of dirty stuff lying everywhere. There was no room to walk in the passage and the children were kept in the back in a dark corner."
For more information, please visit:
BBC News – South Africa man 'chained children for years' – 3 June 2014
Sowetan Live – Alex man held for locking his children up for 8 years – 2 June 2014
News 24 – Parents lock up children for 8 years – 2 June 2014
National Headlines – SA man 'chained children for years' – 3 June 2014
Daily Sun – KIDS LOCKED UP FOR 8 YEARS! – 2 June 2014
Author:
Impunity Watch Archive