By: Max Cohen
Impunity Watch Reporter, South America
SANTIAGO, Chile – 106 former intelligence agents were sentenced by Judge Hernan Cristoso, in one of the largest mass prosecutions for human rights abuses. The agents were sentenced for their roles in the disappearances of 16 leftist militants during the Augusto Pinochet dictatorship, which lasted from 1973-1990. 13 additional agents who had been charged were absolved from sentencing by the Chilean Judiciary. The sentences range from just over a year and a half to 20 years.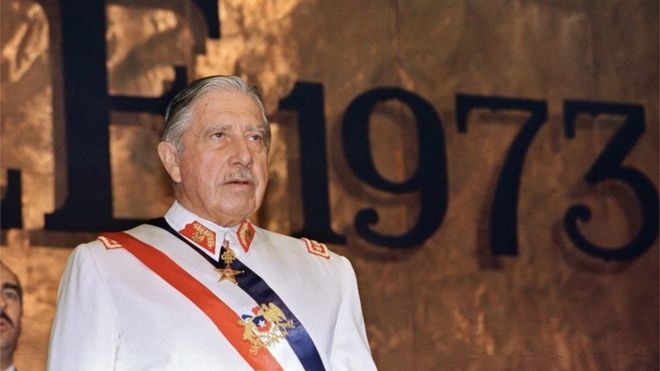 The abducted militants were reportedly sent to various torture and detention centers in Santiago between June 1974 and January 1975, and were never seen alive again. Their deaths were then covered up by the Chilean secret police by planting stories in foreign newspapers to imply that they had been killed fighting abroad as a way of absolving the government. Approximately 3,000 people disappeared and 30,000 were tortured during Pinochet's rule. The disappearances were a part of Operation Condor, conducted by Chile in league with other South American countries such as Argentina and Brazil, which resulted in tens of thousands of activist deaths across the region. It was also motivated by the freshly established Pinochet government to consolidate its power.
Many of the agents who were convicted were already serving sentences for the human rights abuses they had committed. Also among those convicted were two former generals, Cesar Manriquez Bravo and Raul Iturriaga Neumann.
In addition to the criminal penalties for those involved, the current Chilean government was also ordered to pay 5 million Chilean pesos, equivalent to 7.5 million dollars, to the families of the victims as compensation.
Chile has also been criticized recently by Amnesty International for the decision by its Temuco Public Prosecutors Office to close an investigation into the unlawful detention of Victor Queipul Hueiquil, an activist for the rights of indigenous peoples in the country. Victor was reportedly detained for an entire day when police carried out an operation on the land of the Autonomous Community of Temucuicui. During the time of his detention he was allegedly blindfolded, tied up, and beaten while being interrogated.
For more information, please see:
Amnesty International – Chile: Closure of investigation into crimes against Mapuche leader puts indigenous people at risk – 17 May, 2017
BBC – Chilean judge sends 106 former secret agents to prison – 2 June, 2017
CNN – Chile convicts 106 former intelligence agents – 3 June, 2017
teleSUR – Chile Judge Jails 106 Ex-Agents of Pinochet Dictatorship – 3 June, 2017
UPI – Chile judge sentences 106 intelligence agents for kidnappings – 3 June, 2017