By: Max Cohen
Impunity Watch News Reporter, South America
SANTIAGO, Chile – About a week after Chile's Constitutional Tribunal officially approved a law lessening the country's restrictions on abortion, President Michelle Bachelet has introduced a bill to legalize gay marriage. Chile previously decriminalized gay sex in 1999 and approved civil unions in 2015. If approved, the measure would redefine the country's definition of marriage, and expand the rights of gay couples by allowing them to adopt children. It would also recognize the marriages of same sex couples married abroad.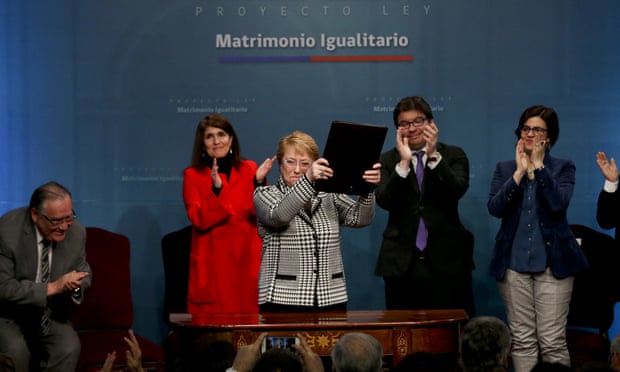 After passage of a bill decriminalizing abortion under certain circumstances, a few legislators requested review of the law before the Constitutional Tribunal claiming that it would violate the Chilean constitution's guarantee of protection of the unborn. On August 21st, the ten justices voted six to four in favor of the legislation, which replaced a law passed in the last years of the Pinochet dictatorship. Currently, women may now legally get an abortion in the country when the mother's life is in danger, the fetus is unviable, or when the pregnancy is the result of rape.
On August 28, President Michelle Bachelet signed a proposal to legalize gay marriage in the country, which now goes to the legislature to decide on. In signing the proposal, President Bachelet said, "We can't let old prejudices be stronger than love." Though civil unions have been recognized in several South American countries, only Argentina, Uruguay, Brazil, and Columbia have thus far legalized same sex marriage, with the latter two legalizing it through court rulings.
With her term ending in March 2018 though, President Bachelet is unlikely to see the bill passed. One of her potential successors, former president Sebastian Pinera, who polls at the time of writing this article have favored to win the upcoming November election, opposes the bill. In a statement to the BBC, he said, "There should not be discrimination, but at the same time the essence of an institution such as marriage should be respected, which has always been about conserving the human race." Still though, gay rights activists within the country are celebrating the move as historic.
For more information, please see:
BBC – Chile leader sends gay marriage bill to congress – Aug 29, 2017
The Guardian – 'Essential rights': Chile's President Bachelet introduces gay marriage bill – Aug 29, 2017
ABC – Chile's Bachelet presents gay marriage bill – Aug 28, 2017
New York Times – Chilean Tribunal Weighs In: Some Abortions Will Now Be Legal – Aug 21, 2017
Author:
Impunity Watch Archive