By Portia K. Skenandore-Wheelock
Impunity Watch Reporter, North America
LES CAYES, HAITI — Hurricane Matthew has left southwestern Haiti with a humanitarian crisis, especially in Sud and Grand Anse. Homes were destroyed, crops drowned, and ocean water flooded fresh water wells, leaving 1.4 million people without shelter, food, and safe water. Basic health services are also limited and the contamination of fresh water sources has caused a previous cholera outbreak to spread, quickly increasing the patient load of these already strained health facilities.
Cholera is a severe gastro-intestinal disease that rapidly dehydrates those infected by triggering diarrhea and vomiting. It becomes deadly when patients lose so much fluids that their organs shut down. Cholera can be contained with water purification and basic sanitation supplies such as bleach, soap, and gloves. It can also be treated with IV fluids but there are limited deliveries of the supplies needed to significantly address the outbreak. Dr. David Sack, professor at the Bloomberg School of Public Health at Johns Hopkins in Baltimore says, "A patient with cholera should never die. If they get to a treatment center in time, if they still have a breath, we can save their life."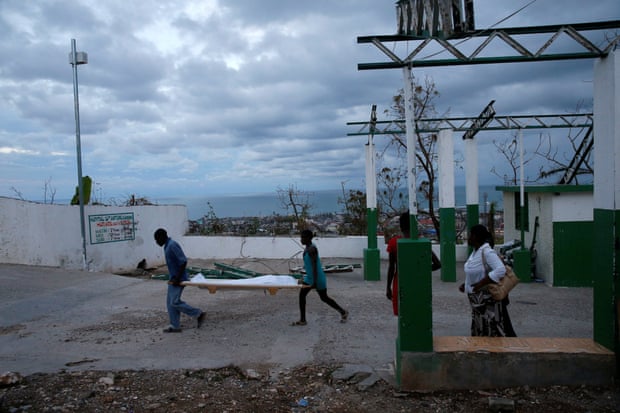 The initial cholera outbreak was brought by UN peacekeepers in 2010 and the hurricane has only exacerbated the problem. The Haitian Ministry of Health says the number of new cases has doubled nationwide and even more dramatically in areas severely hit by the storm. According the World Health Organization there are about 3 million cases a year and 90,000 deaths. Haiti currently has the worst epidemic and an outbreak in South Sudan is now spreading. So far the Haiti outbreak has made 800,000 people sick and killed more than 9,000. Since the population has not seen the disease before there is no immunity and the poor infrastructure for drinking water and sewage has made cholera difficult to contain.
The Haitian government, local communities, and organizations that work in Haiti are doing what they can in relief response but the need is urgent. The United Nations has only raised 28 percent of the $119 million they are seeking for Haiti's recovery. Immediate mobilization of individuals, corporations, foundations, and governments are needed in order to prevent a significant loss in life. The Pan American Health Organization (PAHO) and the Haitian Ministry of Health has organized a number of aid groups to launch a cholera vaccination campaign. The goal is to immunize 820,000 Haitians with a relatively new oral cholera vaccination. If the campaign is successful it will be the largest emergency cholera vaccination campaign in history. However PAHO representative for Haiti Jean Luc Poncelet says, "Vaccine is not the solution. It is one tool that we have to add to the ones we already have." Two doses of the vaccine provide a 65 percent efficacy rate but due to a lack of the vaccine only one dose will be given, reducing the efficacy rate to about 50 percent. The long term solution is to improve access to clean water. The disease can survive for years in the environment but eradicating cholera is possible if living conditions improve enough to provide reliable access to clean water for almost everyone.
For further information please see:
The Guardian – Rise in Maternal Deaths Likely in Haiti, and UN Expert Speaks out on Cholera – 1 November 2016
Huffington Post – Haiti is Facing a Humanitarian Crisis we can Solve – so why aren't we? – 1 November 2016
New York Times – Haiti Opens a Drive to Vaccinate 820,000 as Cholera Flares – 9 November 2016
NPR – Cholera 101: Why an Ancient Disease Keeps on Haunting us – 4 November 2016
Author:
Portia Skenandore-Wheelock