By Heba Girgis
Impunity Watch Reporter, Africa
TRIPOLI, Libya—On Monday, December 31, Libya's Christian community was in shock after a Coptic church was attacked near the city of Misrata. Two Egyptians were killed n the bombing and fear continues to grow of rising extremism. The priest of the church, Markos Zaglul Boules said, "When we were praying we heard the explosion which struck a side room of the church used for services." "I am very sad for this cowardly and criminal act and the loss of our sons," he continued.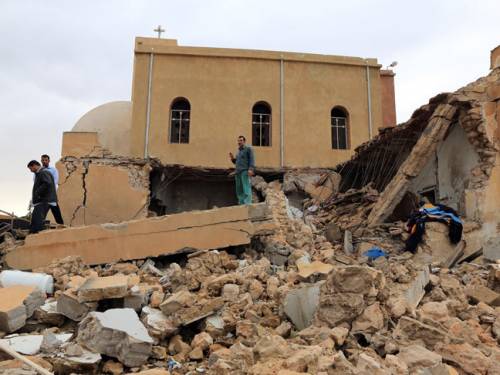 The church is located in the Mediterranean town of Dafinya. It was built between 1936 and 1937 during the Italian colonial rule. The church is popular among Egyptians living in Libya. Libya, as a whole, has a small Christian population that is composed mainly of foreigners. This group includes migrant workers from Egypt, where Coptic Orthodox Christians are the largest religious minority.
Pastor Dominique Rezeau of the St. Francis Catholic church in Tripoli, noted that, "This is the first time we see such an attack. Christians never had a particular problem in Libya before or after the revolution." "Everyone should be concerned. Especially if you look at the trend in northern Nigeria," the pastor continued.
With the recent series of attacks against diplomatic missions and aid agencies, attacks against Sufi shrines and mosques, the country begins to fear the growth militant extremist groups. Before the uprising that overthrew Kadhafi, the country had a population of around 6.3 million, including about 1.5 million African immigrants many of whom fled during the fighting—these numbers included 97 percent Muslim and only about 3 percent Christian.
Karim Bitar, an expert, analyzed the situation finding that, "the worry is that Christians in Libya…be but the first to suffer from the Libyan central government's endemic weakness and the proliferation of armed militias." "We in Misrata consider this act a crime, an un-Islamic and inhumane crime," noted Colonel Hadi Shaklawun, who is the head of national security in Misrata. He also said that no one has been detained so far, but the investigation continues until those responsible are accounted for.
For further information, please see:
Catholic World News – 2 Dead Following Church Bombing in Libya – 2 January 2013
World News Australia – Deadly Church Blast Rocks Libya – 1 January 2013
Kuwait News Agency – Qatar Condemns Egyptian Church Bombing in Libya – 31 December 2012
BBC News – Libya Coptic Church Blast Kills Two Egyptians – 30 December 2012
Author:
Impunity Watch Archive