By: Hannah Gabbard
Impunity Watch Reporter, Africa
ABUJA, Nigeria – In a statement published by Human Rights Watch on September 17, 2018 the Nigerian government was called upon to prosecute Boko Haram suspects by standards of international law and to prioritize the prosecution of those responsible for the organization's atrocities.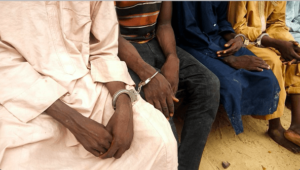 In October 2017, Nigerian authorities began conducting mass trials for suspects of Boko Haram, the terrorist organization responsible for over 27,000 deaths in northeastern Nigeria since 2009. There have been reports that these trials have focused on prosecuting suspects who provided support to Boko Haram and have denied suspects a fair trial and due process. Additionally, many of those tried have been detained since the Boko Haram insurgency began in 2009.
Concerns of fair trial and due process stem from the short length of the proceedings, ambiguous charges, and lack of official translators and appropriate legal defense. Since October 2017, nearly 1,700 suspects have been prosecuted in makeshift courts outside of Abuja where the detention centers were located.
The Human Rights Watch report highlights the importance of prosecuting Boko Haram suspects under international law standards and particularly cites the risk of increasing recruitment by the terrorist organization if due process procedures are not followed. Other groups monitoring the trials, including the National Human Rights Commission, share similar concerns to Human Rights Watch in the errors in trial procedure and treatment of Boko Haram suspects.
Human Rights Watch draws attention to lack of implementation of the recent policy adopted by the Nigerian government in 2017 which aims to prevent and counter Boko Haram extremism. Though this report notes that there is increased international support for Nigeria's counterterrorism policies, they emphasize the importance of conducting these trials in a manner that limits extremism and prioritizes correct trial procedure and due process.  
For further information, please see:
Times Live – Due process concerns over Boko Haram trials in Nigeria – 17 September 2018
Financial Express – Due process concerns over Boko Haram trials, says rights group – 17 September 2018
Human Rights Watch – Nigeria: Flawed Trials of Boko Haram Suspects – 17 September 2018