By Brendan Oliver Bergh
Impunity Watch Reporter, South America
BUENOS AIRES, Argentina – Argentina recently made a bold move and passed a new measure lowering the Latin Nations voting age to 16.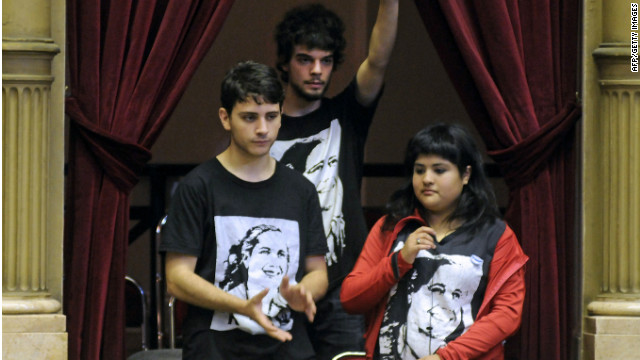 Passed by overwhelming support by the representatives of the lower house, it passed the Argentinian Chamber of Deputies early last week. However the discussion turned bitter as deputies from the Chamber saw accusations fly between members before the opposition walked out in disgust. Without any opposition left in the chamber the resolution passed 131 to 2.
Lauded by the younger generation, they will now follow Brazil, Ecuador and Nicaragua whose citizens can vote at age 16. Voting is compulsory for all argentines aged 18 and older, which includes some 29 million people. However it will be optional for those aged 16 and 17, which will grant the vote to 1.2 million more Argentinians for the 2013 election.
Critics believe that it was made with the intent of boosting the incumbent President Cristina Fernandez's chances in her re-election campaign for 2013.  opponents have said this change is designed to increase support for the Victory Front coalition in the 2013 legislative elections. With greater support in both houses, these opponent s believe it is being made with the intention of allowing Fernandez to run again for the presidency in 2015.
While the Victory Front Coalition has a majority in both houses of Congress, she would need the support of two-thirds of legislators to change the constitution to allow the first female Argentinian president to seek a third term.
While President Fernandez has reiterated that she is simply expanding the liberties of the youth of Argentina. she has issued no comment on any plans to change the Argentinian constitution.
Despite this deputies in both house have gather over 100 signatures from the UCR, PRO and Socialism parties who have promised to vote down any constitutional reform which would allow president Fernandez to run for a new third term. However many of them will be no longer in the Chamber of Deputies when that happens, and many have speculated that the new youth vote will win new for the Victory Front Coalition.
Whatever occurs in the future, the youth of Argentina are static with their newfound civil liberties, This despite cynics who have referred to the youth as the one of the worst social problems in Argentina. Rep Eduardo Amadeo of the Peronist Front party continued " Education is worse. The consumption of drugs is worse. Employment is worse…. and now the government has discovered them and they say, we are going to vote."
For further information, please see:
Los Andes – Deputies Opponents Gathered 107 Signatures Against The Re-Election – 6 October 2012
BBC – Argentina Voting Age Lowered From 18 To 16 – 1 November 2012
Business Recorder  – Argentina Lowers Voting Age To 16 – 1 November 2012
Washington Post – Argentina Lowers Its Voting Age To 16 – 1 November 2012
Author:
Impunity Watch Archive