By Madeline Schiesser
Impunity Watch Reporter, Europe
STRASBOURG, France – On Thursday, the European Court of Human Rights (ECHR) ruled that the rights of German citizen Khaled el-Masri had been violated in 2003 when he was seized in Macedonia and handed over to the C.I.A., which had misidentified El-Masri as a terrorist suspect.  For years, El-Masri has claimed that the C.I.A. tortured, beat, sodomized, and shackled him, but Thursday's ruling represents the first instance of judicial recognition of his ordeal.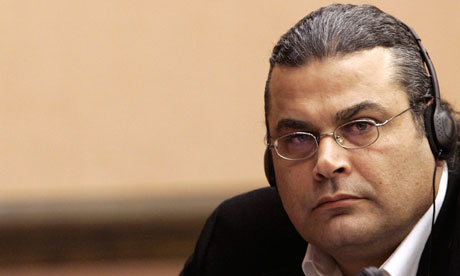 The 17-judge Court unanimously found Macedonia guilty of torturing, abusing, and secretly imprisoning El-Masri when he was seized by security officers when crossing the Macedonia-Serbia border by bus after a vacation.  The court found that at the request of the C.I.A., El-Masri was held by police for 23 days at a hotel in Skopje, and interrogated in English, a language in which he had little proficiency.  El-Masri's requests to contact the German embassy were denied and when he tried to leave, he was threatened with being shot.  In January 2003, El-Masri was turned over to the C.I.A. at Skopje airport at which point he was "severely beaten, sodomized, shackled and hooded" as Macedonian officials looked on.
In its 92-page ruling, the court determined that El-Masri had proven his claims of torture and abuse "beyond a reasonable doubt."  In addition to El-Masri's account of events, the court also considered testimony from former Macedonian officials, results of a German investigation, and U.S. diplomatic cables published by WikiLeaks.  The court found that El-Masri's abuse "at the hands of the CIA rendition team" in the presence of Macedonian authorities was "invasive and potentially debasing … used with premeditation, the aim being to cause Mr. El-Masri severe pain or suffering in order to obtain information."
From Macedonia, El-Masri was taken to Afghanistan and held in a cell in a prison called the "Salt Pit" for four months where he was brutally interrogated, never being charged or given access to a lawyer or German consular officers.  Sometime after the C.I.A. realized they had the wrong man, who had been seized only because his name resembled that of an actual Al Qaeda suspect, El-Masri, blindfolded and handcuffed, was placed on a plane to Albania.
El-Masri's trek for recognition of his torment at the hands of Macedonian and American officials has been lengthy.  The United States justice system dismissed El-Masri's lawsuit on "state secrets" grounds in 2007, and the Macedonian government denied outright that it had any hand in any of the alleged abuse.  Furthermore, U.S. officials sought to block German and Spanish criminal inquiries.
The court found that responsibility for El-Masri's treatment rested with Macedonia. The court added: "Its government was consequently responsible for those acts performed by foreign officials. It had failed to submit any arguments explaining or justifying the degree of force used or the necessity of the invasive and potentially debasing measures. . . . In the court's view, such treatment had amounted to torture, in violation of Article 3 [of the European human rights convention]."
Holding Macedonia "responsible for [El-Masri's] torture and ill-treatment both in the country itself and after his transfer to the U.S. authorities in the context of an extra-judicial rendition," the ECHR found that Macedonia had repeatedly violated El-Masri's rights and therefore the court ordered €60,000 (£49,000, $78,500) in damages.
Decisions of the ECHR are final and binding on the 47 member-states of the Council of Europe and cannot be appealed.
Macedonia's Lawyer, Kostadin Bogdanov, said Macedonia would pay the damages and perhaps take other actions, including reopening the El-Masri investigation and amending laws regarding criminal procedures or their implementation.
El-Masri's lawyer, Manfred Gnjidic, said of his client: "He lost his confidence in the system of rights that the democratic world celebrates. I hope this will give him a little bit more confidence again that even a little person who has come into a crime of great nations has the chance to have his rights."
James Goldston, executive director of the Open Society Justice Initiative and another lawyer for El-Masri, said the ruling "serves as a wake-up call to the U.S. government and judiciary to re-examine how the CIA has treated rendition victims. … and offers an opportunity to re-examine the [U.S.] position of looking forward instead of backward."
However, The ECHR does not have jurisdiction over the United States.  With respect to the U.S., its decision stands simply as a condemnation of improper "war on terror" tactics, specifically the C.I.A.'s "extraordinary renditions" programs, and of the failure of the American justice system to grant El-Masri or others judicial relief.  The decision also represents the first time the ECHR has described acts by the C.I.S. as torture.
Jamil Dakwar, the head of the A.C.L.U.'s human rights program, described the struggle to persuade the Obama administration to hold officials accountable under international law for El-Masri's mistreatment as "an uphill battle," but that the ECHR's ruling "gives the Obama administration the opportunity to acknowledge the egregious violations against Khaled, offer an official apology and reparation."
UN special reporter on human rights and counter-terrorism, Ben Emmerson, further commented on the significance of the ruling, calling it "a key milestone in the long struggle to secure accountability of public officials implicated in human rights violations committed by the Bush administration CIA in its policy of secret detention, rendition and torture."
Coincidently, the U.S. Senate Select Committee on Intelligence also voted Thursday to adopt a 6,000 page report, based on a three-year review of more than 6 million pieces of information on controversial C.I.A. practices including waterboarding, stress positions, forced nudity, beatings and sleep and sensory deprivation.  The report, believed to conclude that Bush-era "enhanced interrogation techniques" did not produce any major breakthroughs in intelligence, however, remains classified.
"The committee took an important step toward making sure that history will not repeat itself.  The investigation and report are also an important precedent for establishing checks and balances between Congress and a CIA that has often flouted both the law and American values," said Christopher Anders, senior legislative counsel at the American Civil Liberties Union. "Only by knowing what happened at the CIA can Congress ensure that it does not happen again."
For further information, please see:
ACLU – Senate Intelligence Committee Adopts Report on CIA's Use of Torture and Abuse – 13 December 2012
ECHR – EL-MASRI v. "THE FORMER YUGOSLAV REPUBLIC OF MACEDONIA" – 13 December 2012 (full case text)
Guardian – CIA 'Tortured and Sodomised' Terror Suspect, Human Rights Court Rules – 13 December 2012
Guardian – European court of human rights finds against CIA abuse of Khaled el-Masri – 13 December 2012
Huffington Post – Khaled El-Masri, German Allegedly Kidnapped By CIA In Afghanistan, Wins Case – 13 December 2012
New York Times – Court Finds Rights Violation in C.I.A. Rendition Case – 13 December 2012
New York Times – Rendition Condemned – 13 December 2012
RFE/RL – Court Finds Macedonia Responsible In U.S. Rendition Case – 13 December 2012
Author:
Impunity Watch Archive