By Heba Girgis
Impunity Watch Reporter, Africa
KINSHASA, Democratic Republic of the Congo—A United Nation's spokesperson said yesterday that the humanitarian and security situation in the eastern provinces of the Democratic Republic of the Congo continue to be fragile even as the United Nations continues to aid the country on both fronts.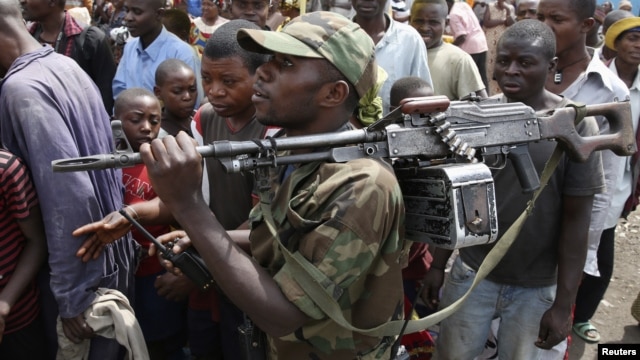 The province of North Kivu, in the eastern region, has been in a state of upheaval since the region's capital city, Goma, has been occupied by the M23 rebel group. The group is composed of a number of soldiers who mutinied in April of this year against the Democratic Republic of the Congo's own national army. The rebels have defeated the Congolese army in a number of battles earlier this year.
The insurgency of M23 rebels has lasted for eight months now and poses one of the biggest threats to the current Congolese President Joseph Kabila. Any new risks of this conflict developing into a war may even draw in armies from neighboring countries. Further, the fighting has displaced more than 100,000 people in the Congo's North Kivu province, creating an even more unstable and serious humanitarian issue in the region.
As concerns were brought to the United Nations, the international organization began to send in its own peacekeepers to help with the stabilization of the region. Since the United Nation's began its monitoring process, the M23 fighters withdrew from the city this past weekend—one of the requirements laid out by a local regional group, the International Conference of the Great Lakes Region. United Nations spokesperson Martin Kesirky told reporters that, "in North Kivu, the withdrawal of the M23 rebel group has continued. The Congolese army is deploying back to Sake, west of Goma."
On another note, a panel of United Nations experts recently accused both Uganda and Rwanda of supporting the group. Both countries deny these allegations.
The United Nations is not the only group attacking this problem. The Congolese government and the eastern rebels are expected to get together later this week to being their own negotiation process, noted regional officials on Tuesday after the group finally withdrew from Goma.
For further information, please see:
Council on Foreign Relations – Congo's Weak Peace Process – 6 December 2012
Voice of America News – Congo Government, Rebels Prepare for Talks – 6 December 2012
All Africa News – Situation in DR Congo's Kivu Provinces Remain Fragile – 5 December 2012
The Telegraph – Peace Talks with Congo Rebels Expected This Week – 4 December 2012
Author:
Impunity Watch Archive