By: Katherine Hewitt
Impunity Watch Reporter, Asia
YANGON, Myanmar – Court hearings have been taking place since January for two Reuters journalists that were arrested on December  12, 2017.  Myanmar officials arrested Wa Lone and Kyaw She Oo for obtaining state secrets from two police officers working in the Rakhine state.  The journalists had been working on a story in relation to the mass killings of Rohingya in the Rakhine state.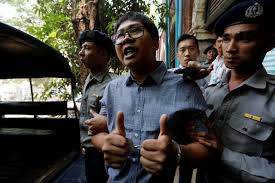 So far, 17 witnesses gave testimony in court in 13 hearings that have taken place.  Lone's and Oo's lawyers say that the witnesses called forth by the prosecution are weak.  There are inconsistencies in the testimonies. Additionally, several procedural mistakes were revealed during the court sessions. Testimonies included a witness who burned notes from the time of the arrest, another who wrote the information down on his hand, and one who signed the search form before the section detailing the items seized had been filled in. The defense attorney has called for the dismissal of the case based on this.  The judge will decide at the next hearing on 11 April.
The prosecution team responded to the request to dismiss the case by stating that the information that the two journalist had was secret and that the journalist intended to hurt the country with that information. The defense team presented that that the prosecution could not establish that the information that the journalist obtained was secret as it had been published by both state and private media outlets.
Wa Lone told journalist after the court hearing, "We only did our work as reporters. I want the people to understand that and want to tell them that I never betrayed the country."  She Oo said, "We followed the news and uncovered the Inn Din story. The reason why we did it is to give the vitally important information to the country."
For more information please visit:
Reuters – lawyers for Reuters reporters argue for Myanmar court to dismiss case –  4 April 2018
Democratic Voice of Burma – Court hears arguments on motion to dismiss charges against Reuters duo – 4 April 2018
Washington Post -Lawyers ask Myanmar to dismiss case vs. Reuters journalists – 4 April 2018
Author:
Katherine Hewitt
Katherine Hewitt is a first year Masters of Arts in International Affairs candidate in the Maxwell School of Citizenship and Public Affairs at Syracuse University. She is pursuing a concentration in Peace, Security, and Conflict. Her interests lie in ethnic conflicts, particularly in the Post-Soviet Sphere. She expects to graduate in December 2018.