By Kaitlyn Degnan
Impunity Watch Reporter, South America
LA PAZ, Bolivia — An attempt to foster dialogue between the Bolivian government and protesters in the city of Potosi failed on Tuesday after protesters demanded that Bolivian President Evo Morales be present for the talks. The government responded that Morales would receive the "final document," but would not be available for the dialogue.  The protesters are led by the Potosi Civic Committee, or Comcipo.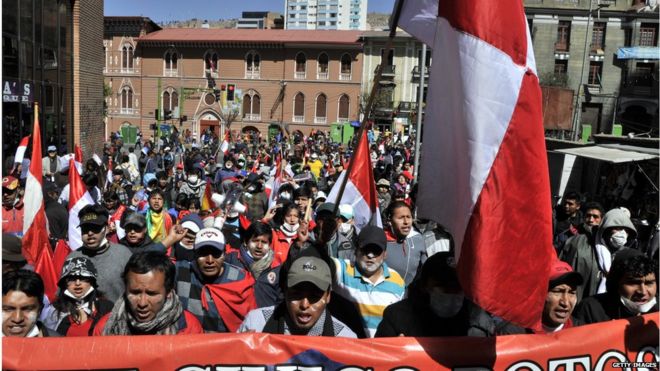 Bolivian government representatives called a meeting for 2pm on Tuesday July 21 in La Paz to discuss the demands of the protesters. After waiting for 2 hours while Comcipo held an internal meeting, Comcipo president Jhonny Llally presented a letter which reaffirmed the existing pre-conditions (including Morales' involvement) and additionally demanded that the dialogue be mediated by the Catholic Church, national ombudsman Roalndo Villena, and the Bolivia's Permanent Human Rights Assembly.
Potosi is protesting for the government to build: a hydroelectric plant, three hospitals, glass and cement factories and an international airport. The city is also looking for steps to preserve the Cerro Rico mines, one of the largest silver deposits in the world.
The protests have been ongoing for at least 17 days, and have paralyzed activity in and around Potosi. Several dozen foreigners are reported to be trapped in the city, including 60 Argentinians. Schools and businesses are for the most part shut down. The city is reportedly close to running out of food, gas, and money. The blockades are preventing food, medicine, and other supplies from being flown in.
Four people have been injured in clashes between protesters and police.
This is not the first time that the people of Potosi has tried to bring attention these issues – similar protests were held back in 2010. These protests also caused a shut down of trade and commerce in the city. Then, 300 foreigners were trapped in the city, and many were evacuated by air by their own governments.  300 foreign citizens were trapped in the city.
No foreign government has yet confirmed that they are working to evacuate their citizens by air, though several have expressed frustration with the inability to access the city by road. Bolivia's Interior Minister Carlos Romero has said that so far, "there has not been a favorable response from the blockading groups" in reference to the attempts to pull out foreigners.
For more information, please see:
Latin American Herald Tribune – Protests Trap Foreign Tourists in Bolivian City – 16 July 2015
BBC – Protesters cut access to Bolivian city of Potosi – 17 July 2015
Latin American Herald Tribune – Dialogue Attempt Between Bolivian Government, Protest Leaders Fails – 22 July 2015
LaPrensa – Dialogue attempt between Bolivian gov't protests leaders fail – 22 July 2015