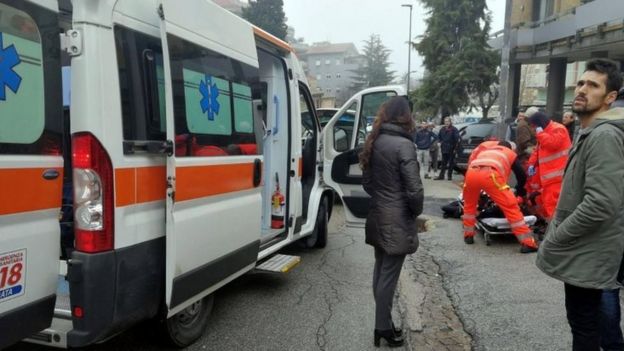 By: Sara Adams
Impunity Watch News Reporter, Europe
MILAN, Italy – Italian police detained a suspected gunman on the morning of February 3rd in the town of Macerata.
The arrest comes after the man opened fired on several people, all of whom are foreign nationals. It has been stated that all six victims of the shootings were black.
The shootings were likely racially motivated. Reports indicate that the man, 28-year-old Luca Traini, gave a Fascist salute upon arrest.
Additionally, Italian news organizations speculate that the shooting may have been in response to the murder of an 18-year-old girl by a 29-year-old Nigerian migrant.
The homicide of Pamela Mastropietro sparked outrage by many locals. Shortly after the arrest of the murder suspect, several people took to the victim's mother's social media pages to post racially-charged comments.
Many of these comments urged revenge against foreign migrants.
While it remains to be seen whether the alleged shooter was motivated by revenge for Pamela Mastropietro, Macerata's mayor believes the killings were racially motivated.
The mayor of Macerata, Romano Carancini, told CNN he "believes" the drive-by shootings "to be connected to the recent slaying" of Ms. Mastropietro.
"The closeness of these two events makes you imagine that there is a connection," Mr. Caracini said.
It also appears that the shootings occurred close to where Ms. Mastropietro's body was found earlier this week.
More information about the alleged shooter is slowly being released.
The alleged shooter was formerly a candidate in the close by town of Carridonia. His party affiliation was with the Northern League, a right-wing anti-immigration group in Italy.
Italy's general election for a new national government will be held on March 4th. The newly revamped "Northern League" is now called simply "the League".
Matteo Salvini, the leader of the League, has used the murder of Ms. Mastropietro in his campaign for control over Italy's government. The League has joined a coalition of other far-right wing parties, including the 5-Star Movement.
Meanwhile, current Prime Minister of Italy, Paolo Gentiloni, has suspended his own campaign in reaction to the shootings.
"One thing is certain," Mr. Gentiloni stated, "horrendous crimes and criminal behavior will be prosecuted and punished. This is the law."
"Hatred and violence will not succeed in dividing us."
Mr. Caracini echoes this sentiment, telling CNN, "we must be united against hatred."
For more information, please see:
ABC News – The Latest: Italy PM condemns drive-by shooting of Africans – 3 February 2018
CBS News – Italy, Macerata attack: Gunman targets black foreigners in drive-by shooting – 3 February 2018
The Independent – Italy drive-by shootings: Gunman 'targeting black people' opens fired on pedestrians in city of Macerata – 3 February 2018
CNN – Man arrested in Italy in drive-by shootings of foreigners – 3 February 2018
BBC News – Italy drive-by attack targets immigrants in Macerata – 3 February 2018
Author:
Impunity Watch Archive