By Samantha Netzband 
Impunity Watch, Africa Desk Reporter
CAIRO, Egypt– The Union Head of Egyptian Journalists was sentenced to two years in prison on November 19th.   Yahia Qalash — the head of Egypt's Journalists Syndicate — and board members Khaled al-Balshy and Gamal Abdel Rahim were convicted for harboring wanted journalists.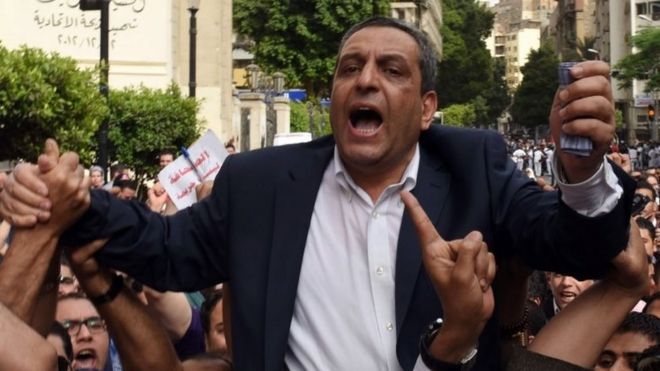 Yahia Qalash speaks in front of Union headquarters. (Photo Courtesy BBC)
Prosecutors ordered Qalash, al-Balshy, and Abdel Rahim tried for harboring wanted journalists who spread lies.  These journalists came under fire after they started protests after the Egyptian government turned over two islands in the Red Sea to Saudi Arabia.  Many Egyptians see this as an unconstitutional, non transparent act.
Qalash, al-Balshy, and Abdel Rahim have the opportunity to appeal their convictions.  In the meantime their bail has been set at $630.  They have the opportunity to go about their business as they await appeal.  This is the first time that the Union Head of Egypt's Journalists Syndicate has been arrest in the unions over 75 year history.
Human rights activists are not pleased that Qalash, al-Balshy, and Abdel Rahim were put on trial.  Gamal Eid, a human rights lawyer and founder of the Arab Network for Human Rights Information, said, "This case shouldn't have gone to court to begin with,…the decision is political…we are not talking about the law and judiciary."  Dozens of other opposition journalists have been arrested under President Abdul Fattah al-Sisi rule, who has ensured that dissenters are quashed quickly.
For more information, please see: 
ABC News Austrailia – Head of Egypt press union sentenced to two years' jail for harbouring wanted journalists – 19 November 2016
BBC – Egypt journalist' union head gets two-year jail term – 19 November 2016
Wall Street Journal – Head of Egyptian Press Union Gets Two Years in Prison – 19 November 2016
Author:
Samantha Netzband