Re-posted Courtesy of:
Syrian Network for Human Rights
The Syrian government has issued several releasing decrees which reduce or cancel the prison sentence on most crimes, the last two decrees were issued in May and December in 2012, nonetheless those decrees does not include the humanitarian activists whom should never have been arrested or prosecuted in the first place; every day there is increasing news about activists got killed under torture or due to hunger or suffocation inside prisons lack the simplest standards of basic life.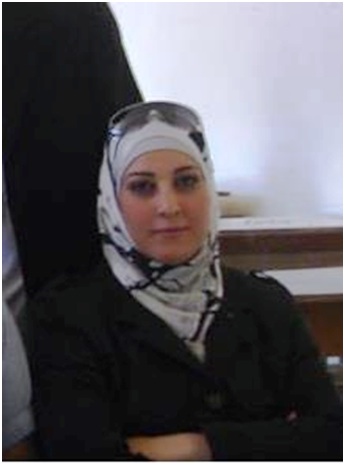 Muna Al-Wadi, who is a student in college, is one of those prisoners who are located in far place from the outside world where the worst violations take place far away from any independent UN observers. Muna's only crime was helping others.
On 26-11-2012 Muna got arrested while she was in her vehicle at a checkpoint for vehicle security which operates for Palestine security branch (according to many local sources) in Der-Al-Assafeer that is located in the eastern Ghouta in Rural Damascus, the cause of arrest was that the security forces found a bag of food she meant to deliver to a affected family, also Muna's car was confiscated too at the same checkpoint.
Muna has been taken to Palestine security branch in Damascus, and she remained there until she was transferred to the air force intelligence branch in Al-Moza a few days ago according to the testimony of former prisoners, her family weren't able to contact her or see her.
Name: Muna Al-Wadi also known as (Yaman)
Father name: Adnan
Mother name: Fatima
Date of birth: 1976
Place of birth: Daraa- Al-Harra town
Work: electrical engineering-majored in Damascus University
Social status: Married
The SNHR has documented the arrest and harassment against the humanitarian activists, doctors, and students while they were trying to do their humanitarian duty by the Syrian government, those actions are considered violations of the Syrian government commitment to the international law which requires enabling and facilitating the necessary aids to be distributed to the affected civilians in a fair manner, and to guarantee the freedom of movement for the humanitarian activists.
From this standpoint the SNHR demands the Syrian government to release immediately Muna and all the humanitarian activists, also the SNHR demands the international community to take effective steps and press on the Syrian government in every possible way in order to clarify the fate of Muna and all the prisoners and the enforced disappeared victims.
—
الشبكة السورية لحقوق الإنسان
Syrian Network for Human Rights
http://www.syrianhr.org/
https://www.facebook.com/syrianhr
Author:
Impunity Watch Archive