By Madeline Schiesser
Impunity Watch Reporter, Europe
STRASBOURG, France – The European Court of Human Rights (ECtHR) heard four religious workplace discrimination cases on Tuesday, September 4, 2012.  The four applicants, all British Christians who lost separate employment tribunals in the United Kingdom, alleged that they were discriminated against in their workplace due to their religious beliefs.  The ECtHR, reserving judgment for a date to be determined, is expected to render a landmark decision.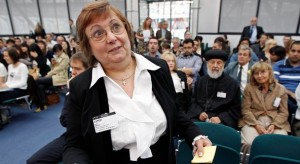 The British Christians claimed that their employers violated articles nine and fourteen of the European Convention on Human Rights, which prohibit religious discrimination while protecting "freedom of thought, conscience and religion."  However, the British government argued that these rights are only protected in the private sphere, not the workplace.
Shirley Chaplin and Nadia Eweida's cases arose out of their desire to each wear a Christian cross at work.  However, Chaplin, a former nurse, was told that, despite having worn her cross for 30 years around the hospital wards, the necklace was a safety risk.  She was offered a desk job.  Eweida, an airways check-in worker, was asked to conceal her cross necklace according to airways uniform policy.  Instead she went home without pay and did not return until the policy was changed.
Lillian Ladele was a marriage registrar.  After civil partnerships became legal in the U.K. in 2004, Ladele would not conduct them.  Initially, she was permitted to trade civil partnerships with other registrars.  However, her employment rules changed, curtailing this flexibility; Ladele also felt pushed to choose between her faith and employment.  An employment tribunal ruled for her on the grounds of harassment; but this decision was reversed.
Gary McFarlane was a marriage counselor and church elder who was dismissed for gross misconduct after expressing concern to his employer that if he was asked to give advice to a homosexual couple, he might not be able to do so.
The applicants brought their cases before the ECtHR after various hearings before employment tribunals, the British Employment Appeal Tribunal and, in one case, the Court of Appeal.   Each desires roughly the same thing: the accommodation of their faith in the workplace.
McFarlane explained: "There should be allowances taken into account whereby individuals like me can actually avoid having to contradict their very strongly-held Christian principles."
The National Secular Society, which intervened to argue alongside the British government, disagrees with this desire for further religious accommodations.  NSS Executive Director, Keith Porteous Wood said: "Any further accommodation of religious conscience in UK equality law would create a damaging hierarchy of rights, with religion trumping all. Any change to the law to increase religious accommodation stands the risk of seriously undermining UK equality law. . . .
"[O]ccasionally there may be limited circumstances where the State and private employers will be justified in restricting the display of religious symbols, or indeed, expressions of non-belief, in the interests of protecting the rights of fellow employees, users of public services, and private customers."
Yet, Andrew Marsh, campaign director at religious group Christian Concern, expressed that the four could have been accommodated without harm.  He asserted "The crucial question in these cases is this: could these four individuals have been reasonably accommodated and their Christian faith respected, without detriment or damage to the rights of others – and the answer to that question is clearly yes.
"Each of them could have been reasonably accommodated without there ever being any danger of risk, significant risk to others or indeed of anyone who is entitled to a service being denied that service."
For further information, please see:
International Herald Tribune – Christians Claim Workplace Discrimination in Landmark Case – 5 September 2012
Press Association – Faith Case Battle in Strasbourg – 5 September 2012
BBC News – Christians Take 'Beliefs' Fight to European Court of Human Rights – 4 September 201
BBC News – Why are Four Christians Accusing Their Employers of Discrimination? – 4 September 2012
National Secular Society – NSS Intervene in Landmark Cases at European Court of Human Rights – 2 September 2012
Author:
Impunity Watch Archive