By Ben Kopp
Impunity Watch Reporter, Europe
BRUSSELS, European Union – European Union officials responded to emergency calls for review of illegal immigration. At the same time, EU critics claim that countries cannot afford providing full benefits to migrants.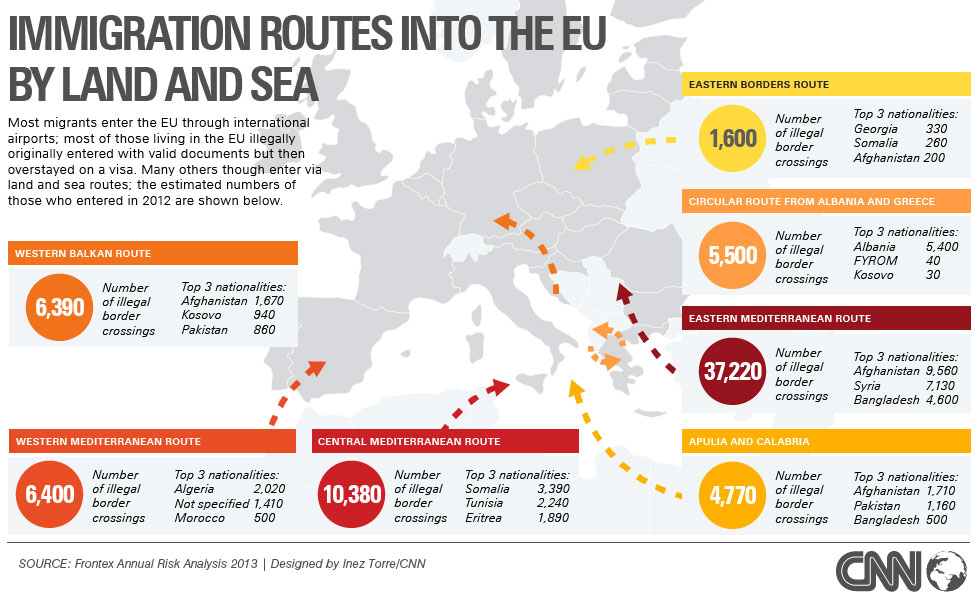 An early October 2013 shipwreck caught worldwide attention as over 300 African migrants died off the coast of Italian island, Lampedusa. Nevertheless, migrants have continued to begin journeys from northern Africa in hope of crossing the Mediterranean to hit Europe. As a result, EU leaders began a review of the bloc's immigration policies.
European Union border agency Frontex estimates that a minimum of 72,000 people illegally migrate to the EU via land and sea, and expects that the actual figure is much higher. Of all illegal residents, Frontex believed that most arrived with plane tickets and valid travel visas only to remain beyond the visa's expiration date.
EU Commissioner for Home Affairs Cecilia Malmstrom issued a statement giving Frontex sufficient resources to operate a wide "search and rescue mission in the Mediterranean, from Cyprus to Spain."
The EU plans to establish a new border surveillance system and task force; however, observers believe boats will continue their regular flow.
Recently, Frontex released its "Annual Risk Analysis 2013" report, which states that immigrants taking illegal routes often travel through Greece and continue by land or ferry to Italy and the western Balkans. An increasing number has attempted central Mediterranean journeys. In many cases, the migrants have fled violence and poverty in regions like Syria and Libya.
The EU also said it is setting up a new border surveillance system and Mediterranean task force to bolster its efforts and will review its asylum immigration policies next summer.
Lithuanian President Dalia Grybauskaite, current holder of the EU presidency, said, "Today, Europe is not ready to accept as many refugees as probably can flow in." Also, Grybauskaite denied that immigration policies would be business as usual.
National governments within the EU pledged assistance to several "gateway" countries, such as Italy, Malta, and Greece.
Although human rights groups criticize Greece often for its lack of an asylum service, the country has created such.
Not all parts of the bloc are ready to support immigration. For instance, anti-EU commentators in Britain have been pointing to statistics that suggest the UK cannot afford to allow EU migrants access to full benefits.
While immigration has created concerns in nearly every nation throughout history, now, every nation must remember what immigration most often means for the world: progress.
For further information, please see:
BBC News – Greece Immigration: Look inside New Asylum Service – October 31, 2013
CNN International – How Do Illegal Immigrants Get into the European Union? – October 30, 2013
Wall Street Journal – EU: Mulling Security, Defense Operation to Stem Illegal Migration – October 30, 2013
Telegraph – True Scale of European Immigration – October 12, 2013