by Max Bartels
Impunity Watch reporter, Oceania 
Suva, Fiji
A year ago a video surfaced on YouTube of Fijian security personnel beating two handcuffed prison escapees, one of the detainees was beaten with batons and metal bars while the other was viciously mauled by a dog that was encouraged by its police handlers. The man was mauled so badly that his leg was eventually amputated due to the severity of his injuries. After the video surfaced there was a public outcry to investigate the matter, police then dated the video to a year before its release and claimed that they would pursue an investigation.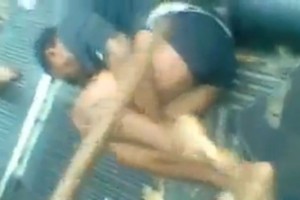 It has been a year since the case was first brought to the police, they have since closed their investigation saying they would examine their findings to look for possible prosecutions. The investigation closed last December and still no cases have been presented for prosecution. Amnesty International in both Australia and New Zealand are speaking out on the matter saying the interim military government is protecting its own and obstructing justice. Amnesty claims that it is widely known in Fiji who the men are in the video and that all the evidence in the case is very clear and there is no excuse if the case isn't taken any further.
After the video originally surfaced a year ago the military head of the government, Prime Minister Bainimarama said that he would stand by his men. Bainimarama has since stepped down as Prime Minister to pursue the upcoming elections, however he appointed a replacement Brigadier- General Tikoitoga. Tikoitoga has expressed the same views as Bainimarama saying that in many cases where the military or the police use force such as in the video it is to keep people from creating a potentially dangerous environment.
Since the accusations from Amnesty and accusations from the Fijian People's Democratic Party, the political party running in opposition to Bainimarma, the Police Commissioner of Fiji  has said that he will continue the investigation and also investigate all complaints from the Fijian public relating to police and military brutality. Furthermore, the Commissioner has said that it does not matter who the subject of the investigation is, be they military or politician, no one is above the law.
These accusations come at a critical time for Fiji, which is undergoing political upheaval as the military government that seized power by a coup in 2006 has decided to step down and allow general elections. Despite pressure from Australia and New Zealand over the torture video the interim leaders of Fiji have not responded. In spite of widespread accusations of police and military abuses Bainimarma is ahead on the polls and he has looked in other directions for international trade and support mainly to China, India and Indonesia. The military government is not willing to take the torture matter any further, and with the video having little effect on the outcome of the elections it seems the leaders of the military government will maintain power.
For more information, Please see:
ABC News Australia — Amnesty Accuses Fiji of Delays in Police Over Alleged Torture of Prisoners — 7 March 2014
The Fiji Times — Police Promise Probe — 26 July 2014 
The Fiji Times — Serious Allegations — 28 June 2014
The Sydney Morning Herald — Fiji Military Leader Admits Beatings Torture — 20 June 2014