By Madeline Schiesser
Impunity Watch Reporter, Europe
GALWAY, Republic of Ireland – When Praveen Halappanavar accompanied his 17-week-pregnant wife Savita Halappanavar to the University Hospital Galway in Ireland for her back pain, he never imagined that the hospital would deny her a life-saving abortion, or that he would lose her within the week.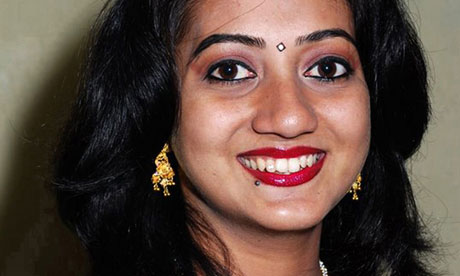 On Sunday morning October 21, 17-week-pregnant Savita, 31, went to the hospital with Halappanavar, 34, complaining of back pain.  Doctors told her she was having a miscarriage which would be over in a few hours, and that the fetus could not be saved.
Instead, Savita spent three days in "agony" during which she and Halappanavar made repeated requests for a termination of the pregnancy, but were repeatedly denied because the heartbeat of the fetus remained present and Ireland "is a Catholic country."
Once the fetal heartbeat stopped, Savita received the abortion.  Shakey and shivering, she was moved to the hospital's intensive care unit, but her condition continued to worsen.  She died from septicaemia and e-coli on October 28 in the early morning.
Ireland has some of the strictest and least clear anti-abortion laws in the world.  By law, abortions are illegal under all circumstances.  A judicial exception was created by the European Court of Human Rights (ECRH) for when the life (as distinct from merely the health) of the mother is at risk, but even this is often left to the discretion of doctors.
By comparison, in Northern Ireland abortions are permitted up to 9 weeks into a pregnancy, and in the rest of the U.K., 24 weeks (see First Private Abortion Clinic Opens in Northern Ireland amid Protests).  Consequently, Irish women seeking abortions will travel to the U.K. or the continent to receive them.
Two investigations have been launched: one by the hospital and the other by Ireland's health executive.  Fianna Fáil leader Micheál Martin has further called for an independent inquiry with personnel from outside the country to establish the full circumstances.
Savita's death has also sparked protests, including a 1,000 strong group outside Leinster House (Ireland's Parliament) and exposed a need for reform.  Currently, Ireland's coalition government is working to prepare a report on such reform, taking into consideration the ECHR ruling that an absolute ban on abortion is a breach of women's human rights.
Patrick Nulty, An Irish Labour deputy in the Dáil, stated that there is a "pressing and urgent need" for Parliament to "show responsibility and legislate" in light of Savita's death.
Halappanavar has given a series of radio interviews since his wife's death.  He recounts her pain, and how despite being upset she accepted she was losing the baby, and how she asked to induce the pregnancy's end, only to be told by a consultant  "'As long as there is a foetal heartbeat we can't do anything."
Halappanavar's frustration and grief is evident.  "It was all in their hands and they just let her go. How can you let a young woman go to save a baby who will die anyway? Savita could have had more babies.
"What is the use in being angry? I've lost her. I am talking about this because it shouldn't happen to anyone else. It has been very hard to understand how this can happen in the 21st century."
For further information, please see:
The Guardian – Ireland 'Should Change Abortion Law' After Woman's Death – 14 November 2012
The Independent — Abortion Laws – Global Differences – 14 November 2012
The Independent – 'This is a Catholic Country': Woman Dies of Septicaemia After Being Refused an Abortion in Irish Hospital – 14 November 2012
Irish Times – Woman 'Denied a Termination' Dies in Hospital – 14 November 2012
RTÉ (Raidió Teilifís Éireann) – Health Minister James Reilly Seeks Report Following Woman's Death After Miscarriage at University Hospital Galway – 14 November
Author:
Impunity Watch Archive