by Emilee Gaebler
Impunity Watch Reporter, South America
BUENOS AIRES, Argentina – Tensions between the Argentinian and British governments regarding the Falkland Islands, called the Malvinas Islands by Argentina, are peaking.  This past weekend a couple of cruise ships were denied entry to the Port of Ushuaia in southern Argentina.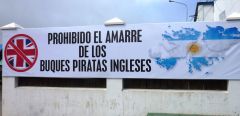 On Friday, February 24, the Adonia ship of P&O Cruises was denied entry and then on Saturday the Star Princess of Princess Cruise Lines was also turned away.  Both ships had stopped in the Falklands the day before.
The port of Ushuaia is right near the Tierra del Fuego national park.  The 3,000 passengers on the two ships were unable to go on shore excursions and tours as planned.  Instead they were forced to remain on the ship at sea.
This comes shortly after Argentina enacted provincial act No. 852, called the "Gaucho Rivero" act.  This bans the entry to any Argentinian port of a ship flying any form of a British flag.  The ban also covers any commercial vessels that are partly owned by British companies.
As reported by MercoPress, the act is named in honor of an Argentinian soldier, a "gaucho" who flew the flag of Argentina on the islands until the British landed and took control of the islands in 1833.  This individual has become a legend and a Malvinas history hero by the administration of President Cristina Fernandez.
Earlier this year the Star Princess  cruise ship was denied entry to the Falklands due to a majority of the passengers contracting a stomach virus.  At the time Argentina claimed the real reason was politically motivated because Argentinian citizens were on board.
Many have expressed concerns over the choice to ban these ships as the bill specifically targets commercial boats involved in the exploitation of natural resources in the area.  Marcelo Lietti, the President of the Ushuaia Tourism Chamber, expressed his the city's position.
He noted that the tourism industry is not related to the Malvinas dispute and most business in the Ushuaia region centers on the cruise industry so this decision has a negative impact that is deeply felt by the community.
The levels of hostility between the Argentinian and the British governments are at an all time high as the 30th anniversary of the Falklands War approaches.  Britain has refused any negotiations with Argentina regarding giving the islands sovereignty to choose their national identity.
Reports of a British parliamentary committee that oversees defense matters visiting the Falklands within the next month have also contributed to the tensions.  Last week Argentina lodged a complaint with the United Nations regarding the militarization taking place in the Falklands with the dispatch of the HMS Dauntless destroyer ship.
The deployment of Prince William, as a helicopter pilot, to the area is also viewed as a threatening move by the Fernandez administration.  Britain has defended both the deployment of the ship and the placement of Prince William as planned rotations.
For more information, please see;
BBC News – Falklands Tension: Argentina "Turns Away" Cruise Ships – 28 February 2012
MercoPress – Port of Ushuaia Refuses Entry of Cruise Vessels that Visited the Falkland Islands – 27 February 2012
Penguin News – Argentine Port Bans Entry to Cruise Ships en route from Falklands – 27 February 2012
The Guardian – Falklands Tension Set to Rise with Visit of Defence Committee MP's – 14 February 2012
Author:
Impunity Watch Archive