by Yesim Usluca
Impunity Watch Reporter, Middle East
DAMASCUS, Syria — On Friday, April 21st, the evacuation of thousands of Syrian civilians from four besieged areas was completed following a forty-eight-hour delay. The population transfer was resumed after an agreement to release hundreds of government detainees was reached.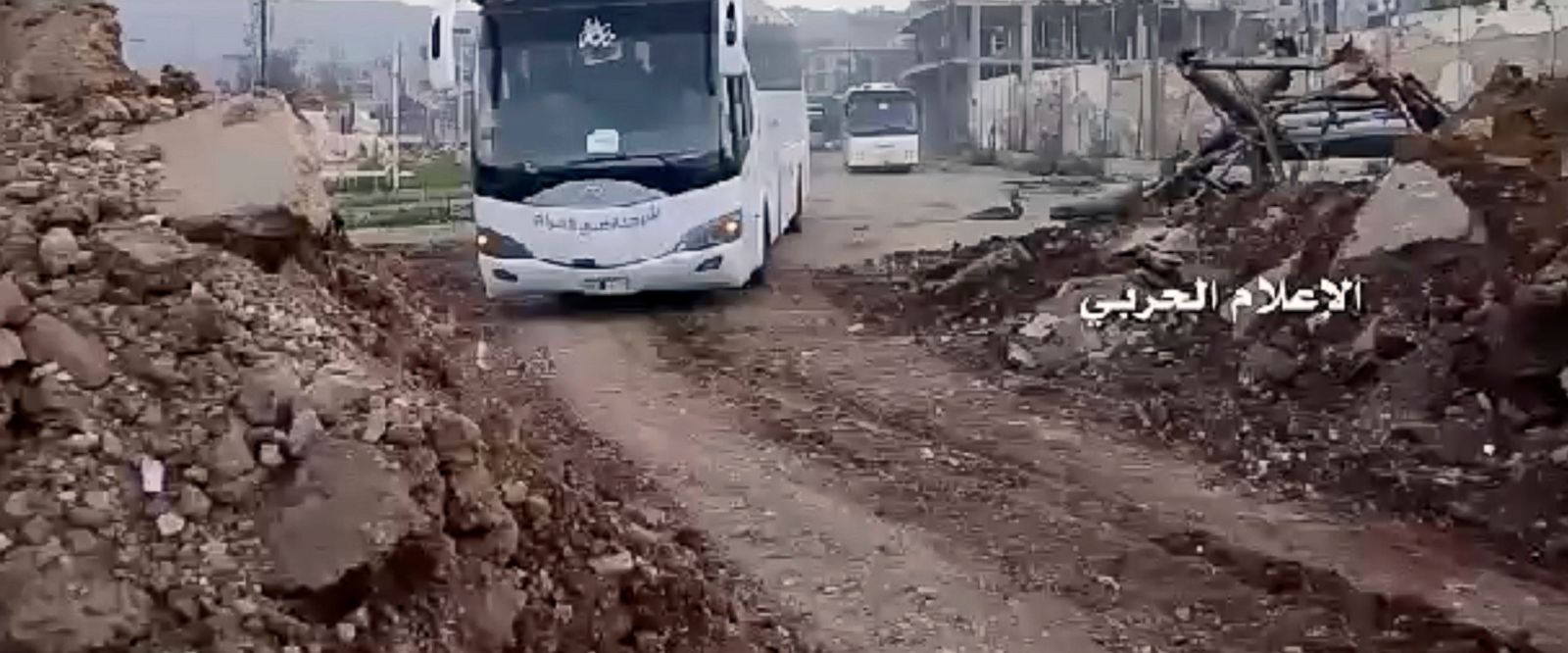 Friday's evacuations marked the completion of the first phase of a population swap deal in Syria. Approximately 11,000 individuals, 8,000 from the pro-government towns of Foua and Kfarya and 3,000 from the rebel-held towns of Zabadani and Madaya, were evacuated. Forty-six buses carrying residents from Foua and Kfarya arrived at a suburb of Aleppo, and fifteen buses carrying residents and rebels from Zabadani departed for Idlib.
The fate of one of the largest population transfers in Syria's civil war had been tied to twenty-six hostages who had been held in Iraq by members of the Shiite militia. Evacuees were forced to spend two nights in their buses after a disagreement emerged regarding the release of the hostages. The prisoners, which included members of Qatar's royal family, were released after Qatar led negotiations for the deal. Under the deal, the Syrian regime will release 500 prisoners which will be transferred to a rebel-held area outside of Aleppo.
The evacuation plan, which has been dubbed "demographic engineering" by the opposition, entails the transfer of approximately 30,000 people from their hometowns over a period spanning sixty days. Most of those being evacuated will be from pro-government villages in the northern province of Idlib.
The agreement has been protested by rights groups, which stated that the evacuations were a "forcible displacement that is altering the country's demographics along political and sectarian lines." The head of the United Nations investigative panel on Syria, Mr. Paulo Sergio Pinheiro, cautioned that those evacuated into Idlib and Aleppo are "likely to be caught in escalating fighting from increasingly radicalized extremist groups." Mr. Pinheiro noted that the panel is concerned that a "disaster" will happen in Idlib, and stated that the newly situated individuals "are under serious risk about their lives[.]" He linked the concerns to the strong presence of extremists in the areas of Idlib and western Aleppo.
The second phase of the population transfer is scheduled to begin in June.
For more information, please see:
The Washington Post—UN panel: Syria evacuees likely to be caught in new fighting—21 April 2017
ABC News—In Syria, first phase of population transfer concludes—21 April 2017
TRT World—Syria evacuation resumes after agreement on prisoner swap deal—21 April 2017
BBC News—Kidnapped Qatari hunting party of 26 freed in Iraq after 16 months—21 April 2017
Reuters—Evacuations from besieged Syrian towns end after two-day halt—21 April 2017