By Tamara Alfred
Impunity Watch Reporter, Africa
Former Ivory Coast President Laurent Gbagbo was taken into custody by the International Criminal Court (ICC) Wednesday to face charges of murder, rape and other crimes allegedly committed by his supporters after last year's election.  He is scheduled to appear before judges at a hearing Monday afternoon to confirm his identity and that he understands his rights as a suspect and the charges against him.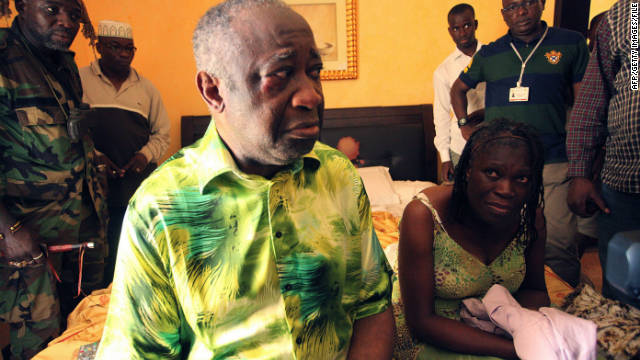 Gbagbo, 66, is the first former head of state arrested by the court since it was established in 2002.  After having been under house arrest since his arrest in April, Gbagbo was transferred to the court in The Hague on an overnight flight on Tuesday.  He is the sixth suspect taken into custody by the court, which has launched seven investigations, all of them in Africa.  In fact, Gbagbo will now be sharing a cell block with former Liberian President Charles Taylor, who is awaiting for a verdict in his trial before the Special Court for Sierra Leone on charges of orchestrating atrocities in Sierra Leone.
"Mr. Gbagbo is brought to account for his individual responsibility in the attacks against civilians committed by forces acting on his behalf," Prosecutor Luis Moreno-Ocampo said in a statement.
The court charged Gbagbo with individual criminal responsibility as indirect co-perpetrator, for four counts of crimes against humanity – murder, rape and other forms of sexual violence, persecution, and other inhuman acts.  In his application for authorization to investigate possible war crimes and crimes against humanity, Moreno-Ocampo cited sources who said at least 3,000 people were killed, 72 people disappeared and 520 other were subject to arbitrary arrest and detentions after Gbagbo refused to concede defeat following the presidential election last year.  President Ouattara eventually took power in April of this year after help from French and United Nations (UN) forces.
Gbagbo, a history professor, came to power in a flawed election in 2000.  He failed to hold elections when his first five-year term expired and reschedule the vote a half-dozen times before it finally went ahead in November 2010.
News of Gbagbo's arrest sparked both elation and anger in Abidjan, which is still divided into neighborhoods supporting Gbagbo or Ouattara.
"This is a great day for Laurent Gbagbo's victims, for the people of Cote d'Ivoire, for international justice," said Reed Brody of Human Rights Watch.  "This is a very important message to all the leaders in the world that if they use the atrocities and crime to stay in power that they too could face justice."
Adama Diomande, a local leader of Ouattara's political party, says there are 42 bodies in the mass grave and a total of 91 people were killed in the neighborhood during the post-election fighting.
Moreno-Ocampo stressed, however, that both sides of the political divide in Ivory Coast committed crimes and that his investigation is continuing.  "We have evidence that the violence did not happen by chance: widespread and systematic attacks against civilians perceived as supporting the other candidate were the result of a deliberate policy," he said.
The UN, Human Rights Watch, and Amnesty International have all documented how forces loyal to Ouattara torched villages that voted for Gbagbo, and executed those that could not run away.  The elderly and the disabled were killed by rolling them inside mattresses and then setting them on fire.
Brody said Gbagbo's indictment was only half the story as victims of crimes by forces loyal to Ouattara have so far gone unpunished.  "This created the perception of victor's justice.  And if the cycle of violence in Cote d'Ivoire is to stop there has to be justice that is even handed and justice for the victims on both sides."
"Ivorian victims will see justice for massive crimes," Moreno-Ocampo said.  "Mr. Gbagbo is the first to be brought to account, there is more to come."
Additionally, Gbagbo's arrest comes a week before parliamentary elections are scheduled to be held in Ivory Coast.  Three political parties in an umbrella coalition with Gbagbo's Front Populaire Ivoirien issued a statement saying they would boycott the elections as a result of Gbagbo's transfer.
For more information, please see:
CNN – Former Ivory Coast president in international court custody – 30 November 2011
Huffington Post – Laurent Gbagbo: International Criminal Court Charges Former Ivory Coast President With Crimes Against Humanity – 30 November 2011
Reuters – Gbagbo faces charges of crimes against humanity: ICC – 30 November 2011
Author:
Impunity Watch Archive